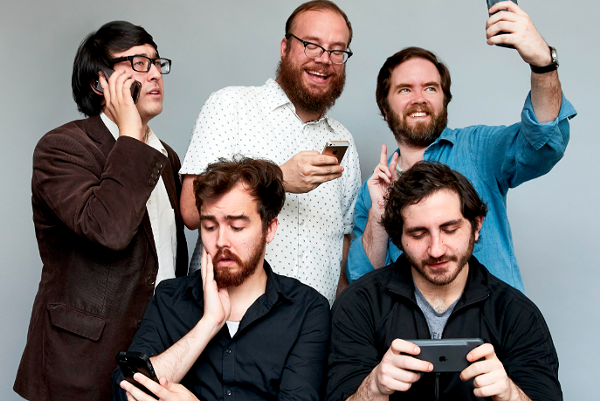 The Democratic Party has experienced a leftward shift since the presidential candidacy of Bernie Sanders. The independent senator's brand of democratic socialism has grown in popularity as an antidote to the fascist inclinations of President Donald Trump, helping groups like the Democratic Socialists of America
more than quintuple their membership
. Michiganders have seen some of the farthest left policy platforms in state history: former Democratic gubernatorial candidate Abdul El-Sayed envisioned a tax structure that would allow every state resident to have their basic needs met, with universal access to things like health care and water and corporations that pay their fair share. On Aug. 7, at least 340,000 Michiganders cast ballots in agreement. He fell short in the statewide race, but similar ideas have prevailed in Detroit and downriver — where voters in Michigan's 13th District recently voted to send Democrat Rashida Tlaib to Congress.
It's against this backdrop that five podcast hosts who can claim some credit for getting millennials hip to socialism will speak this week. On Thursday Oct. 11, the gentlemen and lady of the leftist comedy pod Chapo Trap House will pay Detroit their first-ever visit and perform a live show at the Majestic Theatre. Its part of the 3-year-old podcast's first tour through the Midwest, a sign that even folks in flyover country are thirsting for big political change.
We talked to sharp-tongued, hilarious host Matt Christman about why the tour is significant, beyond the fact that it means he'll get to eat a lot of cheese curds.
Metro Times:
Why did Chapo decide to do a Midwest tour and make Detroit one of its stops?
Matt Christman:
Detroit is America in miniature, in all of its cruelty and promise, evidence of capitalism's worst rapaciousness and the possible fruits of working-class mobilization. Plus, I got to try Detroit-style pizza.
MT:
What do you think of some Democrats' concerns that the party can't go too far left in the Midwest and win? Are they correct in that assessment?
Christman:
The Midwest has historically been a hotbed of socialism. Eugene Debs was from Indiana. "Sewer Socialists" ran Milwaukee for a generation. Even to this day, the Midwest is the only area of the U.S. outside of the coasts that isn't fully in the grip of reaction. I think most people in the Midwest will embrace a political alternative to reactionary nativism or the technocratic leadership that has gutted the Rust Belt.
MT:
What are your thoughts on Detroit in particular?
Christman:
Detroit is the most vivid example of capitalism and racism's caustic effect on America's cities. The cycle of disinvestment, incarceration, malign neglect followed by corporate-directed gentrification is on vivid display. Our only hope is that we can band together and interrupt this cycle with the only real weapon at our disposal: solidarity.
The Chapo Trap House live show will be at the Majestic Theatre on Thursday, Oct. 11. Doors open at 8 p.m. and tickets are $25 if purchased in advance and $30 at the door. Tickets are available here.