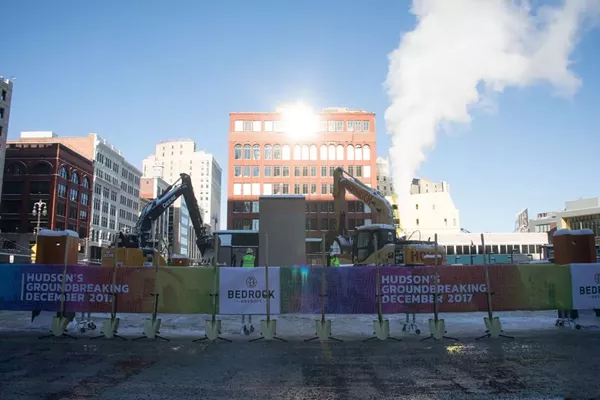 A number of good news items came in this week. Well, good, that is, depending on who you ask.
First,
Crain's
reports
that Dan Gilbert's Hudson's site skyscraper could be getting even taller. If true, the building could grow to 912 feet — more than 100 feet taller than previously announced. It would make Gilbert's building, already slated to be the tallest in Michigan, one of the tallest buildings in the United States. The project's
taxpayer-subsidized
$909 million price tag will likely also grow, but it is not yet known by how much.
Second, the Labor Department released its jobs report today. According to the report, national unemployment
hit 3.7 percent in September
— a figure not seen since 1969. Business is booming.
OK, so when does the other shoe drop? Well, experts have warned that both signs — building the tallest skyscraper, an unemployment rate below 4 percent — have historically signaled that another recession could be imminent.
When groundbreaking for the Hudson's site project began last year, many pointed out the so-called
"skyscraper curse"
— the correlation between the construction between skyscrapers and the boom-bust cycle of the economy. Oftentimes, the announcement of plans the build the tallest building, fueled by easy money, has preceded economic downturn. For proof, see New York City's Empire State Building and the Great Depression, Chicago's Sears Tower and the 1973-75 recession, and Detroit's planned sister structures for the Fisher building and Book Tower, which were scrapped in the Great Depression.
A sub-4 percent unemployment rate, experts point out, has heralded the same thing. "The 4 percent number is not exactly a number that economists are necessarily happy with," Nicole Smith, chief economist at the Georgetown University Center on Education and the Workforce, told
The Washington Post.
"What's been happening here is, if we look historically at other times when the unemployment rate has fallen below 4 percent, it's times where it was the boom phase just before
recession
or just after a major war period."
Sorry to be a drag, but what comes up must come down.
Stay on top of Detroit news and views. Sign up for our weekly issue newsletter delivered each Wednesday.