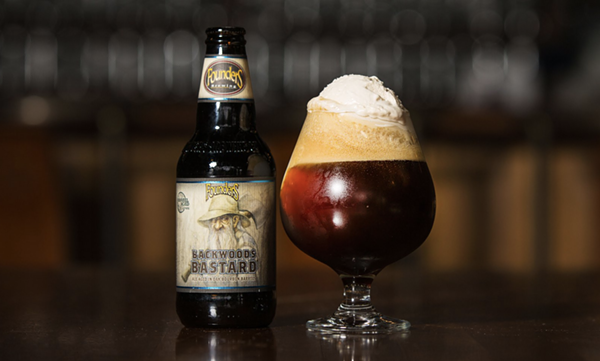 Just days after Founders Brewing Co. decided
it's cool with supporters of state-sponsored homophobia
, it's been revealed that the Grand Rapids-based brewer is being sued in federal court over alleged racial discrimination.
A lawsuit filed in U.S. District Court in the Eastern District of Michigan by Tracy Evans — a black former manager who worked at Founders' Detroit and Grand Rapids locations — alleges "a racist internal corporate culture" and multiple examples of "blatant" racism were exhibited by some white workers and managers during the nearly four years Evans worked there.
The suit claims that Evans complained to human resources throughout his employment, "but his complaints fell upon deaf ears." Evans says he was fired as he prepared to make another formal complaint to human resources.
In a statement sent to
Metro Times
, Founders denied any wrongdoing.
Evans and attorney Jack Schulz are asking for monetary damages to compensate for Evans' lost wages and how he was treated, and to "disrupt the corporate culture," Schulz said.
He told
Metro Times
that while some at Founders treated Evans, 37, "like family," management didn't.
"At the end of the day, the evidence is clear. They wanted to keep the management white, they wanted their clientele to be white, and he was treated differently in the time when it mattered the most — when it affected his job," Schulz said. "When he spoke up about his treatment, it only got worse."
'White guy' and 'black guy' printers
Among other accusations leveled in the complaint, Evans said Founders' management allegedly named two printers the "white guy printer" and the "black guy printer." Management on the second floor used the "white guy printer," while general employees on the lower level used the "black guy printer."
Evans alleged he was passed over for a promotion to two positions in favor of two white coworkers. He said he trained the two white employees and had more seniority than them. The two employees had also been involved in what Schulz called "terminable incidents" just prior to the promotion. One allegedly got drunk at a company party and crashed his car into a parked car, while another allegedly got drunk and "exposed his genitalia to the partygoers," Schulz wrote.
Schulz noted Evans left the Grand Rapids location in October 2017 for "fresh beginnings" with the company at its then-soon-to-open Detroit taphouse in the Cass Corridor.
Prior to moving, Evans was allegedly approached by a white coworker who asked, "What's up with Detroit my ni–?" Evans reported the incident to human resources, but the employee remained employed with the company, Schulz wrote.
Similar issues continued after Evans arrived in Detroit, the lawsuit states.
"In one incident, the employees were discussing [black] ex-Detroit mayor Kwame Kilpatrick," Schulz wrote. "Following [Evans] expressing his views, a caucasian coworker looked at [Evans] and said he needed to explain to [Evans] what it meant to be the 'head ni— in charge.' [Evans] immediately expressed his displeasure with the comment, to which the Caucasian coworker reaffirmed his statement."
The incident was reported to a Founders Detroit general manager, Dominic Ryan, and the employee was written up.
"[Evans] expressed his frustration with the company taking a blind eye to blatant racism against him and allowing an overtly racist culture," Schulz wrote. "[Evans] also stated that Founders should not allow this to happen. However, nothing was done beyond the write-up."
Evans alleged that he learned the coworker who made the Kwame comment was overheard making other racist remarks, including a complaint about Founders Detroit's "dark" clientele — a reference to skin color.
That led Evans to schedule a personal day off on June 1 to drive to Grand Rapids to make a formal complaint with human resources. Evans alleged general manager Ryan urged him not to take a personal day so Evans could finish an ongoing project. Evans said he explained to Ryan that he took the day so he could make a formal complaint with human resources in Grand Rapids, and "stated to GM Ryan that he did not feel comfortable working alongside the employee."
Evans alleged that he agreed to delay the trip to Grand Rapids, but was called into Ryan's office on his next shift and fired before he could file the complaint.
Documents filed with the court also note that only seven of around 200 employees at Founders are black, and that Evans was the only black assistant shift leader out of eight.
'Unconscionable' confidentiality agreement
In a document Founders filed with the court, the brewer largely denied or claimed not to have knowledge of specific allegations made by Evans. It did, however, acknowledge several incidents in which employees used the "n-word." The company suggested in the document that Evans was fired for failing to complete a project, not because of his human resource complaint.
'The derogatory terms, not being promoted, constantly feeling like I had to work harder and feel different from white coworkers — that's what made me want to ... give people an idea of what kind of company Founders has become.'

tweet this
Evans told
Metro Times
that he didn't complete the project on time, but there were extenuating circumstances. He said he always had a strong work ethic, so he felt being fired over the incident was too harsh.
"That, along with all of the other things — the derogatory terms, not being promoted, constantly feeling like I had to work harder and feel different from white coworkers — that's what made me want to go this route and give people an idea of what kind of company Founders has become," he said.
He added that he believes the company's corporate culture shifted to focus on profits, and he found his race to especially be an issue at the Detroit location with some coworkers and customers.
In a statement to
Metro Times
, Founders said the allegations are "completely false."
"[The complaint] was filed several months ago, was thoroughly investigated by the Equal Employment Opportunity Commission, and was recently dismissed because it lacked any truth," the statement read.
However, Schulz said that's untrue. He told
Metro Times
the EEOC charge was filed during the last week of September, and the investigation is ongoing.
"It's almost like they didn't even look," Schulz said.
Schulz said he suspects Founders will ask for charges to be dismissed because a clause in a pre-employment confidentiality agreement signed by Evans moved the statute of limitations from three years — as is granted by federal law — to 180 days. Some of the incidents, like the promotions, occurred more than 180 days ago.
But Schulz claimed Evans signed the agreement under duress because he had to sign it in order to be employed, only had a minute to read it over, didn't have an opportunity to have an attorney review it, and never received a copy. Evans also changed positions and locations within the company multiple times since signing the agreement, which Schulz claimed nullifies the clause.
Another clause in the pre-employment agreement mandates that any racial discrimination claims against Founders be moved from federal court to an arbitrator, which is advantageous to Founders.
Schulz noted that such agreements usually stick in court, but called this particular contract "unconscionable," and added that it's indicative of the type of company that Founders is.
But he said the case is worth trying because, "Founders is never going to change unless they pay for it."
So many restaurants, so little time. Find out the latest Detroit dining news with our weekly food newsletter delivered every Friday morning.