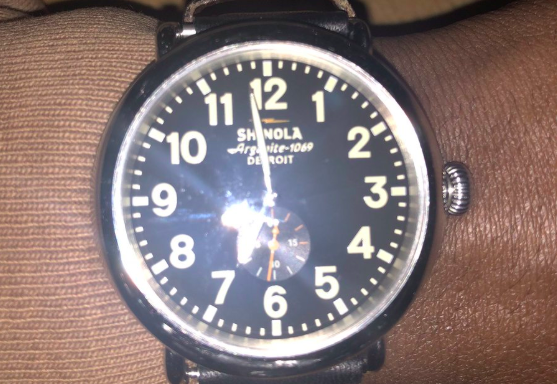 Fresh off the heels of his
pro-Trump SNL rant
, Kanye West touched down in Detroit Tuesday to guzzle the Kool-Aid of another rich white guy with
too much power
— Dan Gilbert.
Yes, rapper-producer Kanye West popped up in DETROIT, MICHIGAN and apparently beelined for the high-rise offices of Gilbert's various companies, where he went on to chill for hours, tweeting out Gilbert propaganda and getting embarrassingly hype over a large "iPhone" displaying a pair of
below-market-value Yeezys
.
Though we had advance warning of Kanye's visit — the artist on Monday told TMZ that he was coming to
"heal the city"
and would be meeting with Gilbert, who is "healing the city" — we couldn't help be struck by his overwhelming embrace of all things Gilbert. Setting aside the fact that Gilbert's Quicken Loans
contributed to Detroit's decline
by issuing a significant number of mortgages that resulted in foreclosure, couldn't even a cursory observer like Kanye see that the demographics and culture of Gilbert's downtown and businesses
don't reflect the broader city
? As a designer, didn't Kanye at least find
some of the art in Gilbertville
to be off-putting?
But in fact, the Gil-Ye alliance isn't all that surprising. West, after all, is now a full-on
MAGA CHUD
, and Quicken Loans, which Gilbert chairs,
helped pay for Donald Trump's inauguration
. There's also of course an intrinsic bond between all members of the
1 percent.
So their visit started off strong.
At 2:28 p.m., Ye appeared to take his first sip of Gilbert Kool-Aid, quoting some prophetic words by the man who owns a lot of things, including nearly
the entire downtown of the poorest major city in America
, and the NBA team belonging to the
second-poorest major city in America
.
trying is lying - Dan Gilbert

— ye (@kanyewest) October 2, 2018
By 3:35 p.m., Ye was really puttin' down what Gilbert & Co. were selling, tweeting out that good old Quicken/Bedrock PR packet featuring a number of black children playing on its cover. "For-more-than-profit," it reads, a brilliantly spun CSR term that we take to actually mean, "For-profit, but we occasionally
throw city residents a bone
as they've
decried our tax-subsidized land grab as obtuse.
"
October 2, 2018
At 3:44 p.m., out comes the big ass iPhone. Here we catch a glimpse of Gilbert himself, who recently added StockX — the "stock market" of sneakers — to his portfolio of companies. The co-founder and CEO of StockX makes an appearance as well, explaining that they'll show Kanye the online store's app on "the big iPhone" because, "it's always hard to see an app on your phone and show lots of people." The StockX guy, Josh Luber, declares this "the world's biggest iPhone."
The triple-white Adidas Yeezy Boosts appear, on sale for $235. Ye makes a joke about how he doesn't recognize them.
October 2, 2018
By 5:44 p.m., Ye has followed Gilbert to the College for Creative Studies. Yes,
Gilbert
is now
leading
Kanye
West
on a
cultural
excursion in
Detroit,
because who better to do it. Just kidding, you could probably find a better guide by plucking a person off the street. When Ye asks Gil, "Where we at right now?" Gilbert doesn't even get the name of the school right.
October 2, 2018
By 5:45 p.m., the Kool-Aid sip has turned full-on guzzle as Ye imparts upon us another quote from the ever so wise Gilbert.
"Where is the flying car department?"
(THOUSANDS of likes, people. THOUSANDS.)
where's the flying car department? Dan Gilbert

— ye (@kanyewest) October 2, 2018
Kanye eventually stands on a table at this $43,000-per-year institution and tells the students present not to let things like money control them. "Release the fucking fear, bro," he says.
Kanye speaking to students at @CCS_Detroit in Detroit.

🎥 @brennaneagle pic.twitter.com/PbpDIcVCnz

— TeamKanyeDaily (@TeamKanyeDaily) October 3, 2018
7:10 p.m. — Kanye is gifted a Shinola watch by Bruce Schwartz, the "Detroit Ambassador" for Gilbert's real estate arm, Bedrock. It is apparently the
50th Shinola watch ever made
. Sounds like #brucewatch has been saving this "OG" Detroit gem for a special someone.
@DetroitBruce gave me this watch 🙏🙏🙏 @shinola pic.twitter.com/N3cTdUxVbL

— ye (@kanyewest) October 2, 2018
Then — something kind of cool. A guy who goes only by Mullen presents an interactive model of Detroit, 3-D printed by a local company. Oh wait, never mind, this is more propaganda. "Let's start by showing him the footprint, and what we're doing," Mullen says. This is all happening inside the Bedrock office. It is now 7:35 p.m. and Kanye still has not left his boy Dan's orbit.
bedrock Detroit pic.twitter.com/57m9pwKD2B

— ye (@kanyewest) October 2, 2018
7:48 p.m. — it's almost over now. Mullen: "Buildings, some of them became fully vacant," yada yada, "now we need residential, so we're restoring a lot of these" yada yada. (Omitted: The overwhelming majority of Detroiters
can't afford to live in these buildings
, but their redevelopment will receive massive subsidies anyway, in hopes that it'll translate to at least modest gains for the city. This is 2018 and incrementalism reigns. Gilbert, worth $7 billion,
cannot afford to give our cash-strapped schools every dollar they deserve
.)
October 2, 2018
Bonus: At 6:50 p.m., Kanye took a break from schwilling the sugar drink to taste a Detroit specialty.
Just kidding. We don't even know anywhere that sells bugs in Detroit. We heard maybe these came from that
new shipping container place with all the restaurants in it
.
overcome fear

My dad and I are going to eat this plate of bugs to celebrate him beating cancer. No more fear pic.twitter.com/b3ywEX13v2

— ye (@kanyewest) October 2, 2018
As an aside, most Kanye fans could not give a shit that he was in Detroit. For them, his effort to "heal the city" represented merely another obstacle to the release of his now four-days delayed album,
Yandhi
.
October 2, 2018
Stay on top of Detroit news and views. Sign up for our weekly issue newsletter delivered each Wednesday.