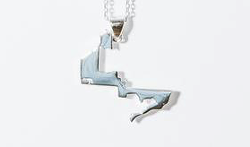 You can now wear a symbol of our eroding democracy around your neck: A gerrymandered district.
A new line called
Gerrymander Jewelry
features six of the nation's more crudely carved Congressional districts, and unsurprisingly, the near-perfect zigzag that is
MI-14
has made the cut. The district snakes from Downriver to Pontiac, cutting east and west through Detroit, then north through Farmington Hills and West Bloomfield Township — in an apparent effort to scoop up as many Democrat voters as possible.
The necklaces, which retail for $195 a pop, are part of a tongue-in-cheek campaign by OMGWTF.VOTE, a nonprofit that supports Democrats running for statewide office in key Republican-controlled states including Michigan.
The marketing is beyond clever. "Zig-zags never go out of style and neither will this piece of jewelry, because the Supreme Court has refused to make gerrymandering illegal," the product description for the MI-14 pendant reads. A black-and-white online video ad in the style of a Zales commercial features and old white man fastening a district necklace around a younger black woman's neck, as a sales-pitchy voiceover describes the outrage-inducing strategy employed by politicians who draw district lines every 10 years.
"Whether you're black, hispanic, Asian or just a Democrat, Gerrymander reminds you politicians have gone to
amazing
lengths to minimize your vote!" the voiceover artist says sweetly. "Our jewelry includes packing, putting minorities in one district, and cracking, diluting them across many.
"Available until we elect leaders with a semblance of morality. Gerrymander: When straight lines just won't do."
While the U.S. Supreme Court has not ruled gerrymandering to be illegal, a number of states have taken the process out of the hands of political leaders. In Michigan, voters will soon decide whether to give that power to an
independent commission
. A recent assessment found Michigan to be one of the country's
most gerrymandered states
.
Stay on top of Detroit news and views. Sign up for our weekly issue newsletter delivered each Wednesday.