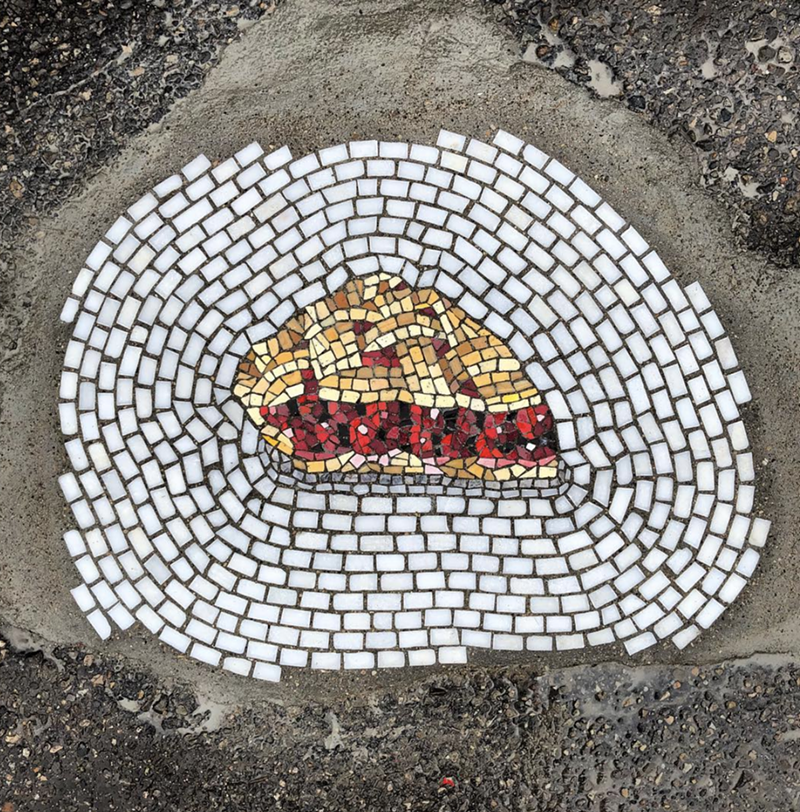 Some people have taken measures into their own hands to remedy Michigan's crumbling infrastructure.

Starting as far back as 2015, Hamtramck residents made news when they began planting flowers in the cities many crater-sized potholes. Just this year, a young man filled a local pothole with Lucky Charms cereal and proceeded to eat out of it, you know, for the cause. And most recently, Ann Arbor-based national pizza chain Dominos Pizza announced that it had selected Hamtramck as its "Paving For Pizza" recipient because, yes, the government is so inept that we the citizens must rely on corporations to fix our roads (and brand them with their logo).

But what might be a daily frustration here in Michigan is an expressive opportunity for people like Chicago artist Jim Bachor, who is the latest vigilante to beautify Detroit's car-swallowing potholes, this time throughout Eastern Market as part of the Murals in the Market festival.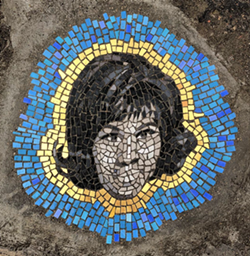 Over the past week, Bachor has installed 10 pothole mosaics, each one representing something you can find within the market — from broccoli to flowers, raw chicken, and a coney dog. Oh, and Aretha Franklin. Bachor, a Detroit native and College for Creative Studies alum, told the
Free Press
that the process from studio to installation site can take anywhere from 10-12 hours per pothole. The holes are first filled with concrete, and then embellished with hand-cut pieces.
This wasn't Bachor's first time taking to the streets of his hometown, as his first Detroit pothole creation was a
Faygo pop can installed in 2016
near the Spirit of Detroit downtown.
Unsurprisingly, potholes aren't just a Michigan problem. After first filling one in front of his house in Chicago, Bachor has installed his contemporary works in Los Angeles and Philadelphia, as well as Finland and Italy.
Visitors can find exact locations of Bachor's Eastern Market mosaics by visiting his
Instagram.
Stay on top of Detroit news and views. Sign up for our weekly issue
newsletter
delivered each Wednesday.