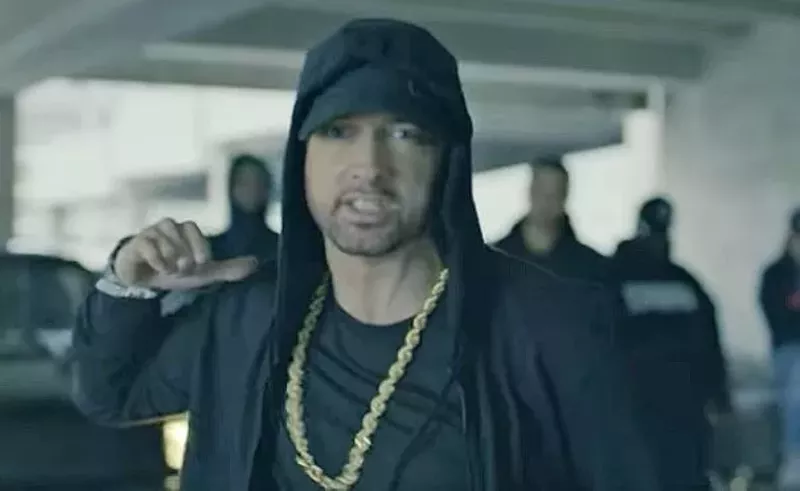 On Eminem's latest record,
Kamikaze,
which
unexpectedly dropped last month
, he raps on track "The Ringer" that President Donald Trump sent the Secret Service to question him following
a blistering freestyle takedown of Trump and his supporters
that aired during last year's BET Awards:
These verses are makin' him a wee bit nervous
And he's too scurred to answer me with words
'Cause he knows that he will lyrically get murdered
But I know at least he's heard it
'Cause Agent Orange just sent the Secret Service
To meet in person to see if I really think of hurtin' him
Or ask if I'm linked to terrorists
As has always been the case with Em's lyrics, it can be hard to tell what is real and what is fantasy. But apparently, this one is 100 percent true. Eminem confirmed it in
a recent sit-down interview
with MTV News' Sway.
"They came to my studio, yeah," Eminem said. "They were just basically asking me questions about my lyrics to see ... what the intent was behind them, and to see if I was making an actual threat or just expressing myself."
Eminem doubled down on his distaste for Trump in the interview — at one point, quaking with rage, he stopped himself and said, "I don't want to get into this whole Trump thing anymore" — but did add if he could go back he would be less hard on Trump voters:
"At least when this shit is all said and done, maybe I can just be on the right side of history. You got people dissecting the bars, and going, 'Aw, this shit is trash, it's not even that good.' That's not what it's about. You're missing the whole point. Do you know what I'm saying? I'm trying to say this also to my fanbase who might have voted for him. A lot of people in my fanbase probably did. I realized after it was all said and done that maybe I should have just attacked him."
Em said as much on "The Ringer," rapping, "But if I could go back, I'd at least reword it/ And say I empathize with the people this evil serpent/ Sold the dream to that he's deserted."
He and Trump might bond over at least one thing, though.
"But my beef is more media journalists," he continues. "...'Cause they been pannin' my album to death."
You can watch the clip with Sway below.
Stay on top of Detroit news and views. Sign up for our weekly issue newsletter delivered each Wednesday.