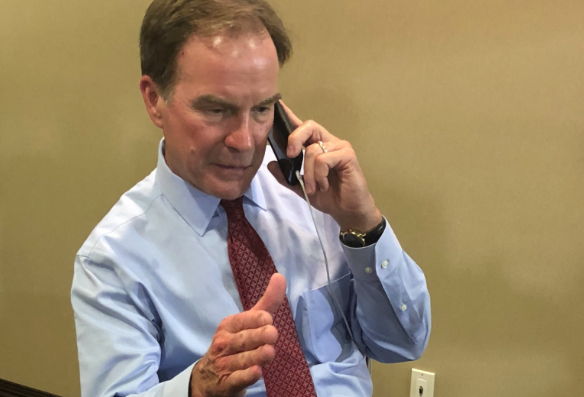 Attorney General Bill Schuette used state staff to promote or make arrangements for his 2015 book tour, emails obtained by
Metro Times
suggest
.
The newly surfaced emails are the latest indication that Schuette may have used public employees — whose salaries are funded by taxpayers — to perform personal or political business on his behalf. Schuette, now the GOP gubernatorial nominee, came under fire during the primary after it came to light that he scheduled a conference call with state staff during business hours
to discuss "presidential politics,"
and used state staff and resources to
finalize real estate transactions
. The incidents come out of an office that Schuette reportedly
stocked with Republican operatives
in advance of his gubernatorial bid.
The latest emails reveal that at least three staffers in Schuette's state office may have been involved in promoting or making arrangements for the 2015 tour for
"Big Lessons from a Small Town."
All of those staffers — John Sellek, Carter Bundy, and Esther Jentzen — now work on Schuette's campaign for governor.
In an email dated Oct. 9, Carter Bundy, then a constituent services director in the AG's office, sent then-public affairs director John Sellek a list of confirmed dates for the tour. The message was sent from Bundy's personal account outside of work hours. Sellek then forwarded the finalized list from his personal account to a handful of people, including at least one other constituent services representative in the office, Scott Greenlee.
In another email, sent during business hours on Nov. 10, Jentzen, then a scheduler for Schuette, asked an unknown recipient to change plans and "meet at the AG's house at 2 p.m." because he'd "like to come into the office before the signing." Jentzen sent the email from her personal address. The message appears to be directed to a driver who was to shuttle the AG to the signing at 5:30 p.m. that day.
Michigan ethics rules require that state officials and employees use
personnel
resources, property
and
funds "solely in accordance with prescribed constitutional, statutory, and regulatory procedures and not for personal gain or benefit." State rules guiding the use of IT resources say "devices, networks, data, software, email, and system accounts, are provided to conduct official SOM business. Authorized Users must act within the scope of their employment, contractual, or other relationship with the State of Michigan." Violations of the policies can result in disciplinary action against an employee, including discharge or suspension.
Sellek, Jentzen, and Bundy did not reply to emails seeking comment. A spokeswoman for the attorney general's office also did not return a request for comment.
In July, when Schuette faced similar allegations that he had used state staff to conduct personal or political business, AG spokeswoman Andrea Bitely said Schuette never had staffers
do political work on state time
. If an email was sent during work hours, she indicated employees could have been taking their lunch hour or "taking vacation time off their
work day
." Bitely did not reply to an email request for documentation as to whether Jentzen had been on vacation time in the 10 o'clock hour on Nov. 10, 2015.
The notion that these particular state employees would help promote their boss is not far-fetched; Sellek is now Schuette's campaign spokesman; Jentzen is his campaign scheduler; and Bundy, according to the
Free Press
, now works full-time on the campaign in an unknown capacity after taking a leave of absence from his state role.
Bundy, Greenlee, and at least one other recipient of the book tour email blast — Shannon Price — meanwhile were highlighted by the
Free Press
last year in a report titled "Bill Schuette stocks AG staff with GOP operatives as he launches campaign for governor." The
Free Press
investigation found they and other staffers with highly political backgrounds were appointed by Schuette to a constituent services representative position responsible for things like public outreach and giving speeches to service clubs and community groups. The position reportedly did not exist under Schuette's two predecessors. (Greenlee, it's worth noting, did not take a job with the Schuette campaign but instead
leads
the
lone ballot committee
opposing Michigan's marijuana legalization initiative.)
Shortly before the Aug. 7 primary, the
Free Press
revealed that the attorney general had asked more than a dozen of his staff to join him during business hours for a 2015 conference about "presidential politics" and incentivized them to solicit endorsements for then-presidential candidate Jeb Bush. Schuette reportedly offered gift certificates to those who
secured
the most endorsements by "COB," or close of business. Bitely never responded to a
Free Press
inquiry on how the gift cards were paid for.
Schuette was also hit during the primary for using staff in his state office to witness multimillion-dollar sales of
property he inherited
in the Virgin Islands. The sign-offs occurred in 2013, 2016, and 2017, according to documents obtained by the
Detroit News
. Attorney General spokeswoman Bitely, who witnessed one of the documents, called the allegations a "baseless attack on an attorney general with a strong ethical record."
The Ingham County Circuit Court in August denied a request for a one-person grand jury probe into those allegations. The Ingham County prosecutor referred a similar request to the FBI in July. It's not clear whether the FBI is investigating Schuette.
A secretary for the Michigan Board of Ethics says the office has not received any complaints about Schuette or his staff misusing resources.
Stay on top of Detroit news and views.
Sign up
for our weekly issue newsletter delivered each Wednesday.