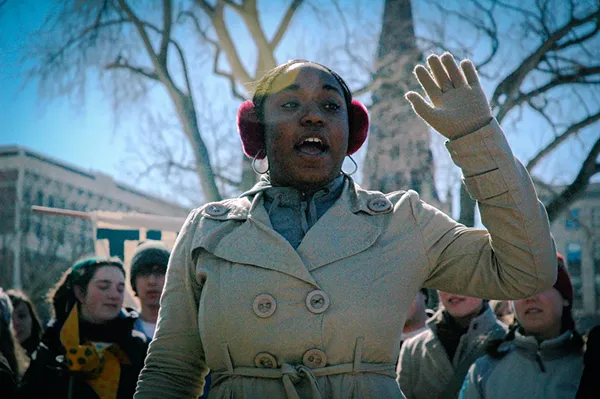 (Ed. note: Read today's story on Siwatu-Salama Ra, her baby, and her family here.)
An attorney for Siwatu-Salama Ra — the young Detroit community organizer
sentenced
to prison after a questionable conviction for an assault charge involving a firearm — has filed an appeal of her two-year sentence.
The appeal contends that Wayne County Circuit Court Judge Thomas Hathaway should have had the jury consider Ra's brandishing of an unloaded gun as a use of nondeadly force, rather than deadly force.
It also contends that Hathaway ignored witness intimidation and erred when he wouldn't let the jury hear that the victim — who allegedly attempted to run over Ra and her family — had motivation to lie about what happened. The woman, the appeal says, was on probation for felony assault and faced prison or jail time if convicted of another assault.
Attorney Wade Fink recently filed the brief with the Michigan Court of Appeals. He tells
Metro Times
that the Wayne County Prosecutor's Office has 21 days to respond, and there's no timeline in place for the court to take on the case. In the meantime, Fink is filing a motion to have Ra released on bond during the appeal process.
Ra, a 26-year-old co-director of the Detroit-based East Michigan Environmental Action Council, on March 1 was convicted of felonious assault and felony firearm charges, the latter of which carries a mandatory two-year sentence.
She's served about six months of her two-year sentence and
gave birth to a healthy baby in prison in May
. We detailed what happened during the incident and court case in our April article,
How a flawed criminal justice system put a pregnant Detroit activist behind bars
.
Fink says an appeal doesn't re-examine the incident's facts, but instead asks the court to consider whether a defendant was provided a fair trial. In his brief, Fink lays out five points to make the case that Ra didn't receive a fair trial, and says the problems lie in Judge Thomas Hathaway's decisions.
"Judge Hathaway made so many errors that it was hard to narrow down the issues which I was going to bring up on appeal," Fink says.
Nondeadly force
Among the more important questions is whether Ra's actions should be considered deadly or nondeadly force. Ra pointed an unloaded gun at Chanell Harvey and her daughter while Harvey used her car in an attempt to run over Ra and Ra's family.
Fink claims Hathaway erred in instructing the jury to consider Ra pointing an unloaded pistol at Harvey "deadly force."
"In Michigan, the law is settled that 'the use of a deadly weapon in carrying out an assault is not the equivalent of the utilization of deadly force,'" Fink writes in the brief. "Michigan courts have consistently held that merely pointing a firearm in a person's direction does not constitute deadly force, but rather nondeadly force."
Metro Times
, he further explains, "'Deadly force' means, in our view — and in Michigan Case Law and in common sense — that you have done something that has a strong likelihood of killing someone else. She didn't use deadly force when she pointed an unloaded gun [at Harvey]."
It's important to the defense that Ra's actions be considered nonlethal because Michigan law allows for nonlethal, or a "reasonable" response, in the face of a threat.
"Therefore, defendant's justification for using self-defense should have hinged on whether defendant used reasonable force to meet the perceived threat from Harvey, rather than hinging on whether defendant was in fear for her life," Fink writes in the brief. "Defendant was denied a fair trial because the circumstances justifying the use of deadly force are much narrower than the circumstances that would justify nondeadly force."
Harvey was on probation for felony assault
Fink also notes in his brief that Harvey was on probation for felonious assault — her third felony — "and the trial court erred in not permitting defense counsel to cross-examine the witness about her motivation to lie in order to avoid violating her probation."
In short, Fink argues Harvey had motivation to lie because she would have violated probation had she been found to be the aggressor, and likely gone to jail or prison.
Fink notes in the brief that the general use of Harvey's prior conviction would have been inadmissible, but Ra's attorney "was attempting to pursue a different line of questioning related to the witness's current probation status, intending to show a motivation to lie."
Fink tells
Metro Times
that Ra's attorney tried during the trial to clarify that point, but Hathaway warned her that she was going to violate his ruling on the matter, and "that puts a lawyer in a bad position — she couldn't ask anything, and Hathaway wasn't very thoughtful about it."
"What's never debatable in a criminal trial for the defense [is] to question whether witnesses testifying have a motivation to lie," Fink adds, and he provided case law in his brief to support that. The Wayne County Prosecutor's Office did not immediately return a call seeking comment.
Ra's attorneys previously noted that Harvey's story was inconsistent and changed multiple times throughout the investigation and trial.
Witness intimidation
Fink also charges that Hathaway "erred in failing to admit evidence of witness tampering and intimidation" after a friend of Harvey's daughter allegedly assaulted and made threats against Ra's niece.
The alleged assault and threat came after the first day of trial. Fink writes in the brief that Harvey's daughter's ex-boyfriend, friend, and godsister allegedly followed Ra's niece home from school, put her in a headlock, and told her "y'all need to drop these charges."
'Siwatu did not get a fair shake… Legally, the jury didn't get to decide the case by using a fair process.'

tweet this
Hathaway, however, did not view the allegations as pertinent to the case.
"I don't think receiving threats is relevant to anything but for the Court to understand what's going on. ... That would be the only way that I would look at it," he said in court. "And that is clearly not something, at this point, that we would allow the jury to hear. So we're not going to allow that."
Fink says that he imagines there would have been a different result had someone attacked and threatened the prosecution's witness.
He also alleges prosecutorial misconduct, saying the prosecution intentionally shifted the burden of proof to the defense when the defense didn't provide photos of damage to Ra's car. Fink further notes that Ra's legal team didn't explore a plea agreement, therefore she didn't receive proper representation.
Fink says the sum of these issues and questions show that Ra didn't get a fair trial.
"My overall point is that Siwatu did not get a fair shake… and I'm hoping the appeals court will see that," he says. "Legally, the jury didn't get to decide the case by using a fair process."
Stay on top of Detroit news and views. Sign up for our weekly issue newsletter delivered each Wednesday.