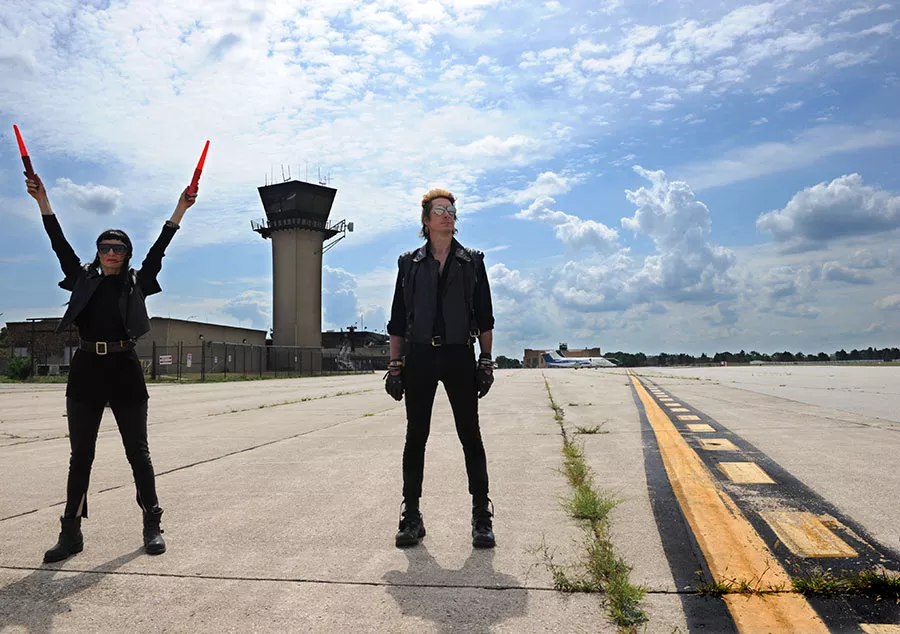 The world was a different place 20 years ago when visual artists, filmmakers, and married couple Nicola Kuperus and Adam Lee Miller formed Adult., Detroit's musical pillar of fraught, austere, and caustic dance-punk. But today, with a growing and labyrinthian production of synthesizers, unbridled affection for discomfort, and a shared repulsion for all things EDM, Adult. remain dangerous, but with an unflinching wink.
When we speak with Kuperus and Miller, they are fresh off a trip to retrieve a most precious bounty from Cleveland — Adult.'s latest seventh record, This Behavior, out on Sept. 7. And they are in need of a stiff drink.
Bizarre could aptly describe the band's decision to throw an upcoming all-out record release bash at one of the city's most unconventional locations — the neglected Coleman A. Young Municipal Airport. Planning, the duo says, has required "stacks of emails," unforeseeable machinations, and finding a skate ramp (and a band to perform on the skate ramp).
"A lot of people were like, why don't you do an easy show? We could have just played El Club, it would have been great. It's basic economics," Miller says over drinks at Northern Lights Lounge. "But we want to take risks, and the event has been expanding in such a way you could only get with collaboration."
"There are so many moving parts," Kuperus adds. "That's also been one of the biggest things is that this show needs to be really organized so that it doesn't look like some sort of street bazaar."
Following last year's performance supporting Protomartyr on the Detroit Princess riverboat, both Kuperus and Miller knew they wanted to commemorate their band's anniversary somewhere special.
"The airport is not just a special location," Miller says. "It's old Detroit that has been ignored by the city government. It's an underdog."
"This is the stuff that still makes Detroit super cool," Kuperus says.
Detroit is mostly what has changed since the duo started making a racket 20 years ago. "We were shooting a music video recently and we almost got arrested," Miller says. "We were literally on a gravel pile. Fifteen years ago I could have filmed on top of the mayor's house and no one would have cared."
In conversation, Miller often refers to his partner as "the memory" for her ability to place dates, like when they definitely saw "Terror at the Opera at Chris Koltay's old place in the early 2000's." But when she mixes up the couple's wedding song (the Cure's "Letters to Elise" with New Order's "Elegia") Miller is first to come to the rescue, blaming their long drive. Yet despite exhaustion, neither can resist the urge to burst into simultaneous animated fits of air guitar prompted by the iconic solo during Prince's "Let's Go Crazy," and their playful dispute as to how many unreleased songs they have in the pocket — Kuperus claims 111, Miller suggests the number is closer to 30 or 40 — is pretty fucking endearing.
"My skin is activated," Miller says after the Prince song, holding his arms out as if gravity has begun to fail him.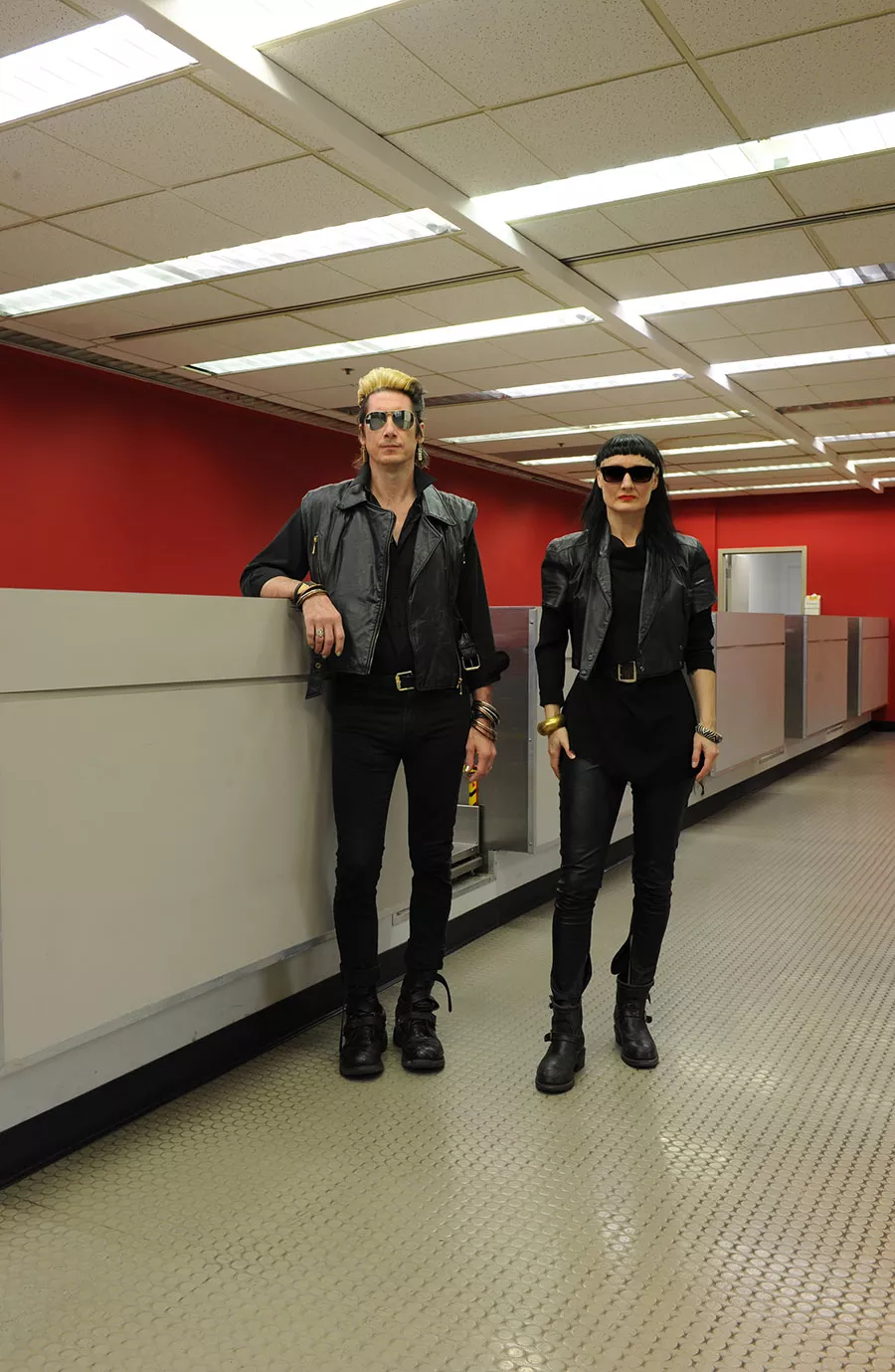 For Adult., the goal is no longer founded in maintaining their perceived esotericism. As it turns out, human connection is their preferred baggage.
"We've always managed to get along with most people. We really do enjoy talking. We're non-judgemental," Miller says. "One of the reasons Nicola is such a phenomenal lyricist is her lyrics not only move through time — they're not stuck in a time period, but they're also so multi-layered, yet personal, and public, which speaks to the new album — This Behavior. We have always been really interested in human behavior."
After a four-year drought, Adult. returned last year with Detroit House Guests, a unique experiment in the balance between collaboration and privacy funded by a $40,000 grant from the Knight Foundation. Described by Miller as a "public record," the process for Detroit House Guests required the enigmatic couple to open their home to a culled selection of creative accomplices to live and work with them for a year.
For This Behavior, though, Kuperus and Miller unintentionally traded an open door for a closed one as they decided to retreat to the desolation of northern Michigan for a month during the dead of winter — a lesson in refining their process while dissecting their own psychology. The couple did not have internet access. There was no TV. The experiment in isolation forced the couple to commit to ideas, implementing the stipulation that if a song was not written in three days, the demo would be discarded. Having purposefully brought a sparse collection of gear reduced only to their live rig, the duo fleshed out 23 demos on a kitchen table and learned to embrace the idea of boredom.
"I hate winter," Kuperus laughs. "There were days it would snow so hard we couldn't leave. We had no choice but to work. But we wanted to work backward. We wanted to limit ourselves. Translating an album into a live situation is difficult. We're just two people."
"One day it was minus-7 degrees and I lost our house key. It was terrifying," Miller says. "We were out in the snow for 45 minutes trying to find it. But that's the stuff that makes your experience rich. When you get back in the house you're so happy to be back. It's all about appreciation. That's where we were with this album. Solutions had to come differently."
In keeping with the social nature of Detroit House Guests, they enlisted six individuals to help decide which of the final 23 demos had "the spark."
"Only one song got all six votes, whereas nothing else did," Miller says. "More people should ask for help in editing."
Just days away from This Behavior's release, Adult. admits to having considered trying to rework one of the discarded demos for their upcoming set, ultimately citing their new and completely out of character Netflix crime documentary obsession for informing their approach to editing. When asked about whether this album represents a closing of a chapter or the beginning of a new one, they can't be sure. But they do say they consider becoming parking lot attendants from time to time. Presented by El Club and UFO Factory, what has been casually dubbed "the airport show" promises a night of firsts, anniversaries, and releases. Also celebrating 20 years is Wolf Eyes — the trip metal project of John Olson and Nate Young (reunited with former member Aaron Dilloway), who have teamed up with Lansing's Universal Indians (featuring Gretchen Gonzales-Davidson, Olson, and Dilloway) to form Universal Eyes, or U. Eye. The event will celebrate the release of Universal Eyes' record Four Variations On "Artificial Society" and marks the first time the two bands will share a bill.
"We're always the most nervous to play at home," Miller admits. "There's a high standard when you're coming after Motown, Iggy, MC5, and garage rock. But right now is the most exciting time in music since we started."
"We stayed here," Kuperus says, "and 20 years later we are still a band. That's really hard to do, but we keep talking about us. The show is not about us. We all live here. We all want something intense, something that feeds us. That's what we want this to be."
Adult. will perform with Universal Eyes, Boy Harsher, John "Jammin" Collins, and more on Saturday, Sept. 8 at Coleman A. Young Municipal Airport; 11499 Conner St., Detroit; elclubdetroit.com; Doors at 7 p.m.; Tickets are $15-$20.
Get our top picks for the best events in Detroit every Thursday morning. Sign up for our events newsletter.