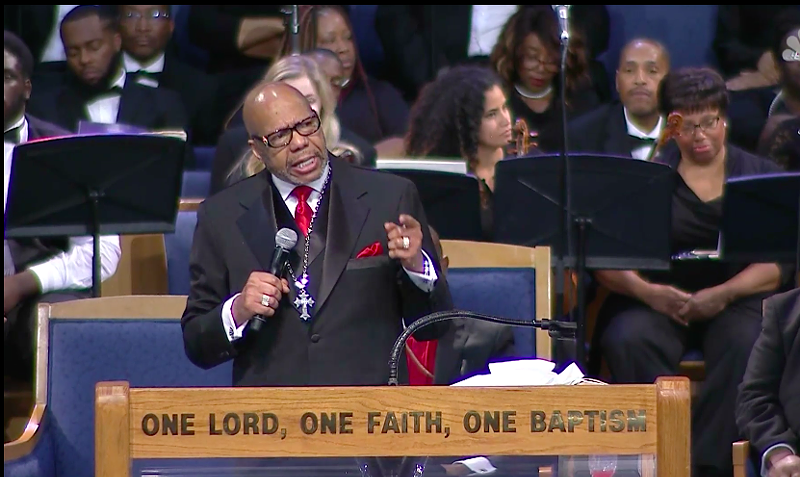 Several days after the internet lit up in response to a controversial eulogy delivered at Aretha Franklin's funeral in which the words "black lives don't matter" were actually uttered, Franklin's relatives have issued their verdict on the controversial comments — and they're appalled.
In a statement issued to various media outlets on behalf of the family Monday, Franklin's nephew condemned the eulogy delivered by Rev. Jasper Williams as "offensive and distasteful."
Here's Vaughn Franklin's statement:
Rev. Jasper Williams spent more than 50 minutes speaking and at no time did he properly eulogize her.

My aunt did not ask Rev. Jasper Williams, Jr. to eulogize her before she passed away because dying is a topic that she never discussed with anyone.

Our family asked Rev. Jasper Williams, Jr. to perform the eulogy because he eulogized our grandfather (Rev. C. L. Franklin), my aunt (Erma Franklin) and my uncle (Cecil Franklin). However, there were several people that my aunt admired that would have been outstanding individuals to deliver her eulogy including Dr. William J. Barber, Rev. Al Sharpton, Dr. Michael Eric Dyson, Rev. James Holley and Pastor E.L. Branch.

We feel that Rev. Jasper Williams, Jr. used this platform to push his negative agenda, which as a family, we do not agree with.
Williams' now infamous eulogy took aim at people who protest "when the police
kills
one of us," and those who are "ready to loot, steal whatever we want," but "when we kill 100 of us, nobody says anything, nobody does anything."
He went on, "If you choose to ask me today 'do Black Lives Matter?' let me answer like this: No, black lives do not matter. Black lives will not matter. Black lives ought
not
matter. Black lives should not matter, black lives must not matter until black people start respecting black lives and stop killing ourselves, black lives can never matter."
He also talked about what he described as the demise of the family unit in the black community, saying "A black woman cannot raise a black boy to be a man."
"Right in your own neighborhoods, where your church is, there are struggling single moms, that don't know what to do. That needs a man in the house through mentoring programs and parenting our children, we can turn black America around," he said. "The Queen of Soul has spoken now, time now for black America to come back home."
It is worth noting that Franklin gave birth to four boys, two of whom were born before she was 15-years-old.
The pastor defended his eulogy before the Franklin family weighed in. Here's what he said to the
Daily Mail
:
"I'm sure much of the negativity is due to the fact that they don't understand what I'm talking about,' he said. 'Anybody who thinks black America is all right as we are now is crazy. We're not all right. It's a lot of change that needs to occur. This change must come from within us. Nobody can give us things to eliminate where we are. We have to change from within ourselves.

"It is ludicrous for the church not to be involved. The church is the only viable institution we have in the African-American community. We must step up and turn our race around."

...

"I think if she's immortalized, she should be immortalized,' he said. 'If we can turn black America around, it would be the greatest and best immortalization we could properly give to her for what she did for black America and the world when she lived."
The full eulogy is below.

Stay on top of Detroit news and views.
Sign up
for our weekly issue newsletter delivered each Wednesday.