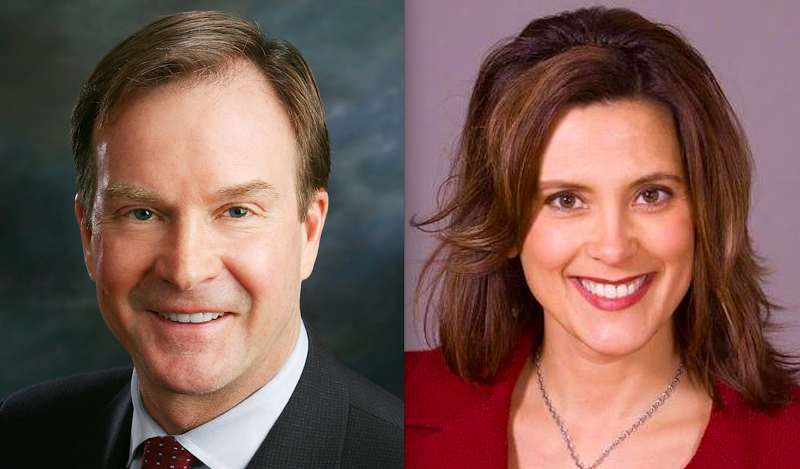 New polls suggest that Democratic candidate Gretchen Whitmer is the current frontrunner in Michigan's race for governor.
Strategic National and Gravis Marketing polled 700 and 647 likely voters, respectively, about their inclinations for or against Democratic candidate Gretchen Whitmer and Republican candidate Bill Schuette.
Of the individuals polled by
Strategic National
, 45 percent of respondents support Whitmer compared to 36 percent who back Bill Schuette, with 91 percent responding that they were very likely to vote in the November general election. The Strategic National poll also suggests that the dislike for Schuette is much more apparent than for Whitmer, with 51 percent of pollsters responding that their opinion of Schuette fell under "somewhat unfavorable" or "strongly unfavorable." Whitmer, on the other hand, received mostly strong marks, with 54% of respondents saying they saw her as a strongly or somewhat favorable candidate.
The poll conducted by
Gravis Marketing
yielded similar results. Conducted between August 14 and 16, the poll found 52 percent of respondents in support of Whitmer, compared to 37 percent who support Schuette. The remaining 11 percent were undecided. Aggregated polls from
Real Clear Politics
also suggest that Whitmer is currently leading Schuette by 9 points.
A recent report published by
The Washington Post
ranked Michigan fifth in a list of the 10 governor races across the country that most heavily favor Democrats.
The Washington Post
says Gov. Rick Snyder's current unpopularity in response to his handling of the Flint water crisis has made Michigan particularly ripe for a Democrat to take the race this November. It also noted that Trump won Michigan by only a fraction of a percent in the 2016 presidential election.
Stay on top of Detroit news and views. Sign up for our weekly issue newsletter delivered each Wednesday.