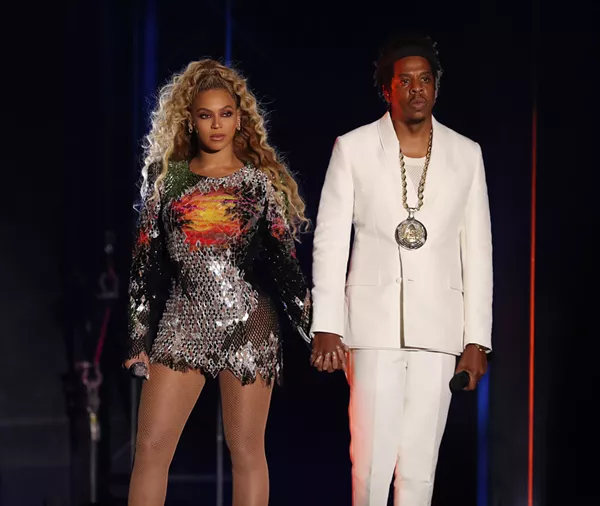 It's safe to expect nothing less than unmatchable greatness from a performance by Beyoncé and Jay-Z. What is perhaps most unexpected is the difficulty that comes with fathoming and internalizing that very greatness if you are lucky enough to witness it in the flesh. Being in the presence of Bey and Jay evokes an overwhelming sensation that was likely felt by all 65,000 fans that flooded into Ford Field Monday night for the divine duo's On The Run 2 tour for a nearly two and a half hour romp through love, legacy, and fuckery.
Though Beyoncé and Jay-Z have reached the pinnacle of superstardom where any tour they embark on runs the risk of feeling like a victory lap, they performed with the same vigor and perfection as if it were their first tour. Telling their own amplified love story of "The Gangster and The Queen" (as they were introduced), the show put the entire spectrum of human emotion on blast — lust, anger, betrayal, forgiveness, and most of all, love. The Queen and King themselves began the show by descending like gods from the rafters of Ford Field. They opened the show with a stripped down version of Jay-Z's
"Holy Grail,"
with Beyoncé singing Timberlake's verse: "You'd take the clothes off my back, and I'd let you/ You'd steal the food right out my mouth/ And I'd watch you eat it/ I still don't know why/ Why I love you so much."
Those lyrics feel laden with much more weight when delivered by Beyoncé's smooth, robust vocals, especially to a listener who has paid even a shred of attention to the rumours surrounding the couple since the release of
Lemonade
. But if there's anything the couple proves with their performance, it's that they, as a partnership, are not going anywhere. This tour is a vehicle for them to weave their tale the way they want to tell it, with the overarching message of impermeability.
The duo "put some R-E-S-P-E-C-T on my check" by
dedicating the show to ailing Motown's queen, Aretha Franklin
before throwing the audience some lovey numbers like a cover of Makaveli's
"Me and My Girlfriend,"
"SUMMER,"
and
"Drunk in Love"
.
But Jay-Z doesn't get off the hook without having to watch his infallible wife sing
"Sorry"
and a surprising version of
"Resentment"
from 2006's
B Day
while thousands of people woo in support and maybe even shed a couple tears. The message is clear — all is forgiven but not forgotten and Beyoncé is not afraid to let the whole world know.
Jay-Z had a few shining moments with
"Dirt Off Your Shoulder"
and "Song Cry" from 2001's
The Blueprint
that had the whole stadium shaking and reveling in the pleasure of nostalgia. Beyoncé then emerged in full latex with a troupe of sexy dancers for the anthem for feelin' yourself,
"Flawless."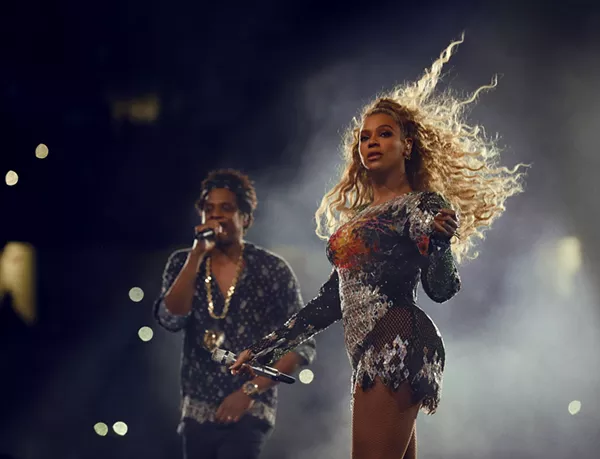 For a majority of the show, Bey was surrounded by a gang of beautiful, world runnin' women. Being accompanied by this entourage didn't distract from Bey's diva-dom as one might think but amplified her presence and cast her as almost a spiritual ringleader for all women. She was performing for much more than just her own interest but to empower and uplift the audience. Bey is all of us. And she was beautiful.
The songs were broken up by footage that interlaced reality and fantasy —
Bey and Jay writhing on a bed of money, running toward each other on a beach, a very pregnant Beyoncé slow dancing with the father of her children.
These unorthodox pairings depict the extremes in the couple's life together and the life they have willingly chosen to display. It was refreshing to be let in, ever so slightly, into the life behind the glimmer.
The couple reunited for the show closers
"Deja Vu,"
"Forever Young,"
and
"Apeshit,"
while the words "THIS IS REAL LOVE" flicker on the stage's main screen. They finished out the show with the ease and perfection of two best friends, doing their "secret" handshake for the thousandth time, in front of thousands of people redefining what it means to be intimate.
Beyoncé graciously thanked the band, tour managers and audience for making the show happen, closing with a, "See you next time Detroit."
We'll bey waiting.
Get our top picks for the best events in Detroit every Thursday morning. Sign up for our events newsletter.