In 2016, upon his first-ever visit to Detroit, Gabriel Currie took a late-night stroll. Actually, "stroll" doesn't do it justice. It was an hours-long, way-past-midnight walk through downtown streets. By himself.
The Los Angeles native was invited here by acquaintances who were locals, but slipped away from his hosts. "I heard all the stories for years," he says. "I wanted to see for myself."
He must have liked what he saw. In May of the following year Currie, founder and owner of boutique guitar builder Echopark, packed up lock, stock, and fingerboards and moved his operation from the L.A. district that inspired his company's name to a nondescript, 4,000-square-foot structure in Detroit's Old Redford neighborhood.
"It's been interesting," Currie acknowledges. "There have been challenges, for sure. Once my wife [Dawn] found the right house it became easier. But being in a new environment, no family nearby, no friends you have history with. I'm not afraid of much, but it hasn't been all roses and chocolate cake."
That may have been a subconscious reference to the half-eaten chocolate cake perched in Echopark's lobby, a souvenir from the backstage birthday party for drummer Jason Bonham, whose Led Zeppelin Experience played DTE Energy Music Theatre the night before. Currie's handcrafted, custom-made guitars, amplifiers, and related gear allow him access to some very notable circles.
Joe Perry of Aerosmith owns more than a dozen Echopark models. Troy Van Leeuwen and Royal Oak's Dean Fertita from Queens of the Stone Age are fans. So is Jonny "Two Bags" Wickersham of Social Distortion, who praises Currie on the Echopark website for placing "so much care into the instruments he builds that his passion verges on obsession." And Jackson Browne is so tight that Currie says the Rock and Roll Hall of Famer asked him to arrange Browne's solo concert last August at the historic Redford Theatre.
"We both love old buildings," Currie says. "We were looking at pictures of the neighborhood and Jackson said, 'Look at this theater! It's a little gem. I'd love to play there. Can you make it happen?' I said, 'Sure,' but I just got here. I didn't even know if they did live performances."
Currie, a colorful, damn-the-torpedoes type whose enthusiasm, intensity, and tattoos — including the one on his neck honoring his mother, Corallia — belie his 49 years, says the one question he still gets asked after more than a year in business here is why. "Why in the hell would anybody give up the tinsel and ta-tas of L.A. to move to Detroit?" he echoes.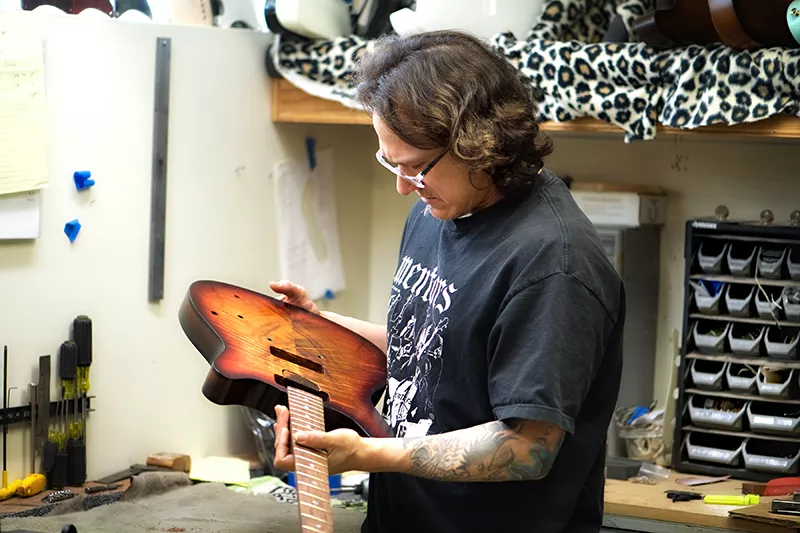 Reared in hardscrabble Southern California ("There were gang fights right outside our front door") and overcoming a checkered past, Currie was, as they say in Hollywood, scouting new locations. "I grew up in that whole fucking thing, and was aware of the pariahs at a young age," he says. "I did all I could do there and I said, 'What would be the opposite of this, but still the same in terms of American identity?'
"I thought if I went to Detroit and could inhale some of that wind, dig my toes into some of that dirt, that could be it," he says. "The air is clean, the people are very nice, and there's no traffic. In L.A. you can't get a turkey sandwich without spending a half-hour on the highway. I thought, 'Wouldn't it be cool if I had the chance to tailor my story my way?' And it's working out."
Currie chanced into an apprenticeship in L.A. as a luthier, or maker of stringed instruments, under the late Leo Fender, the Henry Ford of the electric guitar. He took a brief career detour into construction to provide for Dawn and their daughter, Petra, but a fall off a scaffold 10 years ago quickly rekindled his love of making guitars.
He still takes a hands-on approach to the crafting of his instruments. This day he is excited by a shipment of sinker logs recovered from the bottom of Lake Michigan near Muskegon. "I use aged wood to achieve the things I want in tonality and stability," he explains. His small production team includes master luthier Jim Duggan, a fellow SoCal native who Currie persuaded to move with him. "The first night was kind of scary, but I was ready for a change," Duggan says. "I love the winter."
Echopark guitars don't come cheap: He created a DT series of instruments in the $2,400 to $3,000 range upon relocating, "to take the spirit of ingenuity here and market something a little more affordable," Currie says, but the rest of his product line runs from $3,500 to $14,000. He has reduced delivery time from one-to-two years to six-to-eight months. "Dudes with money aren't used to waiting for anything," he observes.
A documentary on Currie's conversion is in the works. It surely will include creation of the Old Redford Community Arts Foundation, which he and his wife founded with his proceeds from Browne's concert. "When I was little we got dropped off at places in the community where kids could go sing, paint, dance, learn," he says. "I thought it would be really cool if we could help foster that, create a little oasis here for these kids."
"It's not enough to just move someplace and have a great house and business," Currie says. "I want to affect other things, and be effective."
More information is available at echoparkguitars.com.
From our 2018 Made in Michigan issue.