The Vehicle City often gets a bad rap, but if you want to day-trip with your family or spend a night on the town, Flint has plenty to offer. After leaving, you can become one of the growing number of people who leave saying, "I had no idea what Flint was really like." Here's a breakdown of what you can do when you swing into town.
Entertainment
After years of sitting vacant, Flint's historic Capitol Theatre is finally open again for business. One of its first shows since its renovation featured The Moth Radio Hour from National Public Radio, which sold out all 1,600 seats. The one-person storytelling show was the kind of event that Jarrett Haynes says is perfect for the Capitol's stage — small and intimate.
Haynes is the executive director of the Whiting, the other large venue in Flint, and he also oversees productions at the Capitol. With one entity managing both locations, Haynes says it's an opportunity for the two theaters to complement each other, rather than compete. The Whiting seats a little more than 2,000 people and is perfectly suited for large Broadway productions, and is also home to the Flint Symphony Orchestra. More information is available at thewhiting.com.
If you're looking for something a little smaller, a little younger, and a little louder, you might try the Flint Local 432, Flint's legendary all-ages music venue. Started in 1985 as a place for young people to hear and play their own music, the Local was reopened in 2012 and offers a wide variety of local and traveling musical acts in various genres, mostly rock and hip-hop.
Art
Located in Flint's Cultural Campus, the Flint Institute of Arts draws art enthusiasts from all over to see its incredible collections, which include American, African, Asian, and European art. It also has more than a dozen galleries, including a media arts gallery and one with renaissance art featuring tapestries once dubbed "Flint's Da Vinci Code" by the local paper. The FIA also hosts rotating exhibitions throughout the year. Current exhibitions include From Lens to Eye to Hand: Photorealism 1969 to Today, a collection of paintings so clear and sharp they appear to be photographs, and In Search of Lost Time, a collection of prints by master printmaker Peter Milton. Learn more at flintarts.org.
If you're looking for something a bit cozier, check out Flint's Buckham Gallery. Located less than a block off the main drag of Saginaw Street in Flint, Buckham is located up a flight of stairs and features traveling exhibits as well as local artists.
On the second Friday of every month, downtown Flint is home to Art Walk, where sidewalks and businesses are full of art and performers. It's a good excuse to wander around town and enjoy some food and a few drinks (more on that below).
Cars
Flint is the Vehicle City, and it's proud of it. Every year Flint plays host to Back to the Bricks, a week of events that includes a free car show and draws historic automobiles and enthusiasts from across the country. The events kick off Aug. 14 with "Bricks Flicks" at the US 23 Drive-In theater, which will be packed with classic cars. The next two days will consist of the annual "Rolling Cruise," with people lining Saginaw Street from downtown Flint to nearby Grand Blanc to watch as classic cars take over the road. The Rolling Cruise is followed Friday night with an outdoor concert, and the week concludes with the Saturday car show, where the red bricks of downtown Flint are packed with classic cars that come from across the country to park, pop their hoods, and show off. All events are free. For more see backtothebricks.org.
If you can't make it to Back to the Bricks, the Sloan Museum has its own permanent historical auto collection, as well as an annual auto show in June.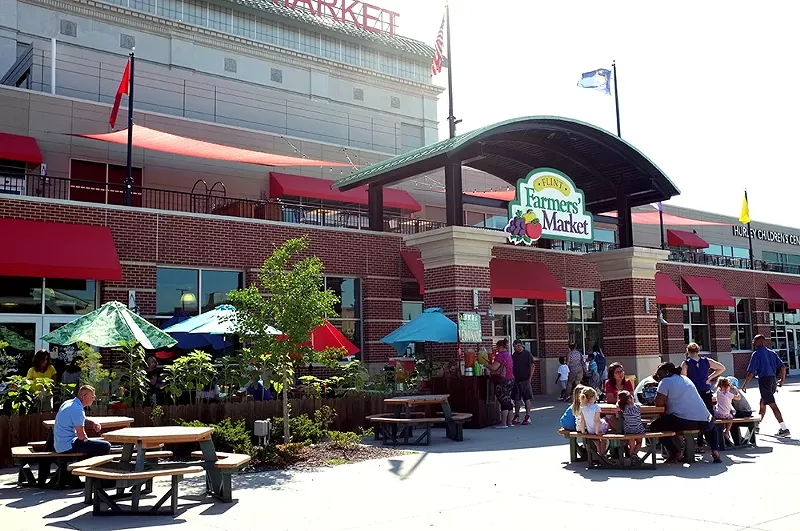 Food
One great thing about downtown Flint is that it's compact enough that you can easily crawl from bar to restaurant without having to walk too far. There are plenty of great places to eat throughout the city, but if you want to see some of the newest and coolest spots to eat and drink, find a place to park downtown and just start wandering.
You might start upscale, at downtown's Cork on Saginaw. Cork, as the name suggests, is known for not only its wines but the sampling stations in the back, where, once you buy a card, you can buy sips, tastes, and full pours of whatever wines are being featured. If wine isn't your thing, fear not, the bartenders there know what they're doing. Better still, the food is always creative and outstanding.
Walking north from Cork, as you cross Second Street, look to your right and you'll see the outdoor diners of Table and Tap, downtown's best spot for enjoying barbecue alongside a Michigan beer. If you're looking for something a little more historical and just downright cozier, take a left on Second Street, and then a right into Buckham Alley, and on your left you'll see the entrance to the Torch Bar & Grill, a Flint staple known for its burgers. Everyone from local politicians to blue-collar workers goes there for a beer. The people you can always count on seeing are the early generation of Torch regulars, their photographs lining the top of the wall all the way around the bar.
Heading back to Saginaw Street, if you're again looking for something a little more upscale, there's 501 Bar & Grill (the name is also the address). If it's lunchtime, you might head another block north to the Lunch Studio — where the food and the service can make you feel like family.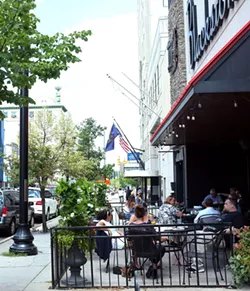 This is also your chance to take a right and head east down First Street to Flint's new farmers market. Named one of the top six great public spaces on the American Planning Association's annual "Great Places in America" list, and ranked among the best farmers markets in the state, the Flint Farmers Market is also home to some of Flint's best places to get lunch on Tuesdays, Thursdays, and Saturdays. Steady Eddy's has some of the fastest service in town. The market is also home to Chubby Duck sushi, Mexico at the Market, Beirut Restaurant and Grocery, and several other places to enjoy a quick nosh. You can enjoy the large atrium or take the food upstairs, order a beer at Market Tap, and sit on the enormous upstairs patio where you can look over almost all of downtown.
If you're still ready to hit another bar, head back to Saginaw Street, take a right and head north to stop into Churchill's Food & Spirits. Long known as a place to get good bar food, Churchill's has recently overhauled its menu. And if whiskey and bourbon are your thing, you won't find a better selection.
Finally, a little further north, over the bridge, is the Soggy Bottom Bar, a place where you can find, depending on the night, jazz, comedy, trivia — and solid cocktails and traditional bar fare. When manager Ken Laatz took over Soggy Bottom in 2014, he wanted the menu to feature what he calls "bar food plus," and he has not disappointed. The nachos and burger options hit the mark.
Outdoors
Despite what you've heard about the Flint River, if you're into kayaking, canoeing, or fishing, this is one of mid-Michigan's most overlooked treasures. Slip in upstream in Davison near the gorgeous Stepping Stone Falls and paddle through Mott Lake, often populated with swans, as you come into downtown. You can also do right in town and head downstream, where you might just spot one of the two resident bald eagles who nest along the river there.
Getting off the beaten path a bit, in nearby Burton, you might take the kids (or yourself) to For-Mar Nature Preserve. Located at 2142 N. Genesee Rd. in Burton, For-Mar is home to acres of wooded areas to explore, an indoor activity and educational center, an enclosed butterfly garden, and a treehouse that was built on the hit show Treehouse Masters.
Kids
There's no shortage of things for kids to do around Flint, especially if you take a short trip from downtown to the east end of Kearsley Street, where you'll find the Sloan Museum, which just installed its new dinosaur exhibit. Near neighbors include Longway Planetarium, which regularly features shows and activities for kids, and Flint Youth Theatre, home to Flint's budding thespians as well as seasoned actors who consistently put on fantastic shows for and featuring young people.
There's a phrase you might see on the occasional Flint T-shirt, or hear an emcee say at the end of a show: "Say nice things about Flint." They say it because there are lots of nice things to say about Flint. But all it takes is a visit to find yourself doing it on your own.
From our 2018 Made in Michigan issue.