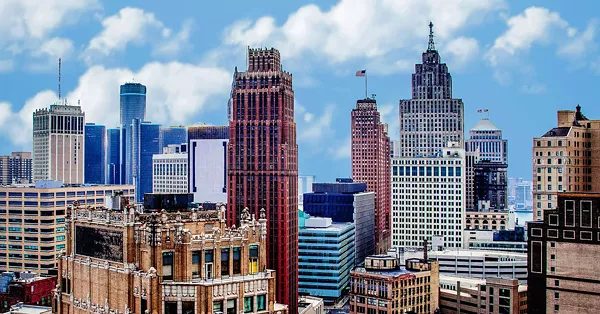 Bolstered by the arrival of Dan Gilbert's Quicken Loans headquarters, Detroit's revitalized downtown has received plenty of media attention in recent years. But
a new Free Press report
takes a look at how suburban office building managers are battling to attract younger tenants, attempting to infuse their properties with "that cool factor": multi-million dollar-renovations that include adding amenities like fitness centers, lobby arcade games, food trucks, and more.
Of course, in some ways the suburbs don't have to try too hard. What the 'burbs may lack in hip, walkable lunchtime and afterwork restaurant and bar options, they make up for with ample parking, lower taxes, and cheaper rents.
Steve Morris, managing partner of the Axis Advisors, tells the paper, "The transformation is wonderful, but (Detroit) has gotten more expensive."
"What we're starting to see is a small exodus of companies starting to leave," Morris said. "As leases come up, they are looking at the suburbs and they're saying 'I can be in Southfield where there are a good handful of buildings in good shape, where one can lease space at about $18 a foot — and the parking is free."
Health care firm ConcertoHealth moved its regional office from Detroit to Southfield, and Blue Cross Blue Shield moved some 400 workers from Detroit to Southfield as well. Meanwhile, nonprofit Local Initiatives Support Corp. left downtown for New Center in search of cheaper rent.
That said, there are a number of major businesses still set to relocate to Detroit: Google and LinkedIn are opening downtown offices, Tata Technologies is moving its North American headquarters from Novi to Midtown, and Ford Motor Co. is set to rehab Corktown's long-decrepit Michigan Central Station.
The story follows a
Bridge Magazine
report
released earlier this week, which suggested that downtown Detroit's gains could spell job losses for Oakland County. (It also quoted Oakland County spokesman Bill Mullan, who called referred to downtown's businesses as "the Gilbert cartel.")
"While the suburbs have benefited from both federal policies and Detroit's downward spiral, their 'strength' is illusory," Pleasant Ridge Mayor Kurt Metzger told
Bridge
. "We must be able to attract a young, educated workforce and our far-flung suburban job centers are not the answer."
Stay on top of Detroit news and views. Sign up for our weekly issue newsletter delivered each Wednesday.