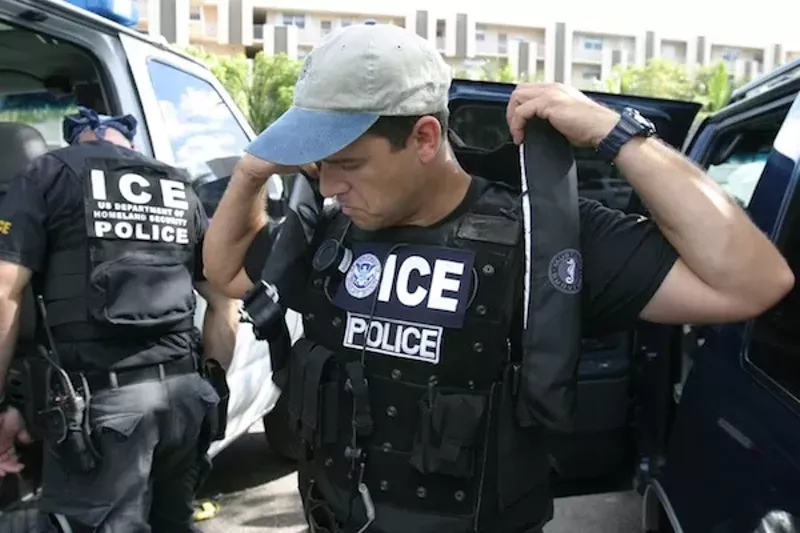 U.S. Immigration and Customs Enforcement agents are active in Hamtramck and have been targeting people in the city's large Yemeni and Bangladeshi communities.
Council on American-Islamic Relations Michigan (CAIR-MI) attorney Amy Doukoure tells
Metro Times
that the agents are demanding proof of citizenship from immigrants in recent days, but so far she isn't aware of any arrests or detainments.
"ICE agents are conducting traffic stops and door knocking, and appear to be asking people for proof of residency," Doukoure says.
The stops appear to be random, and CAIR-MI is advising immigrants on how to protect themselves. A
video on its Facebook page
informs residents of their rights and offers guidance on how to handle ICE or Border Patrol agents if they are approached.
"Silence is your shield," Doukoure says. "You always have the right to remain silent, and you always have the right to have an attorney present when you're being questioned."
The video emphasizes that legal residents should produce their identification — either a state or local identification — and also carry immigration documentation, such as a visa or green card.
If residents are approached at home, CAIR-MI recommends that residents collect a business card from any agent that comes to their door so they can contact ICE when they have proper legal representation.
"You do not have to answer questions about your religion or your religious practices. You don't have to answer questions about what you do in your home life, what you do for a living, where you pray. You don't have to answer any of those questions," Doukoure says. "Be respectful and be polite."
CAIR-MI says it will continue to monitor the issue and inform the community if it continues. Its Facebook video that instructs immigrants on how to protect themselves is here:
ICE spokesman Khaalid Walls tells
Metro Times,
"ICE operations target individuals, not cities." Most of the individuals targeted, though, are a part of Hamtramck's Muslim community.
Walls adds:
"ICE is focused on removing public safety threats, such as convicted criminal aliens and gang members, as well as individuals who have violated our nation's immigration laws, including those who illegally re-entered the country after being removed and immigration fugitives ordered removed by federal immigration judges.

In Fiscal Year 2017, 92 percent of all aliens arrested by ICE had criminal convictions, pending criminal charges, were an immigration fugitive, or were an illegal re-entrant. However, ICE no longer exempts classes or categories of removable aliens from potential enforcement. All of those in violation of the immigration laws may be subject to immigration arrest, detention, and, if found removable by final order, removal from the United States.

ICE deportation officers do not conduct sweeps or raids that target aliens indiscriminately. ICE's enforcement actions are targeted and lead driven. ICE conducts targeted immigration enforcement in compliance with federal law and agency policy. During targeted enforcement operations, ICE officers frequently encounter additional suspects who may be in the United States in violation of federal immigration laws. Those persons will be evaluated on a case-by-case basis and, when appropriate, arrested by ICE."


Last June, ICE ran a similar operation in metro Detroit to collect and deport Iraqi Chaldeans. (That came after many local Chaldean leaders and residents supported Trump.)

(Kara Frank is an Metro Times summer intern. MT intern Jacob Stocking contributed to this story.)

Stay on top of Detroit news and views. Sign up for our weekly issue newsletter delivered each Wednesday.