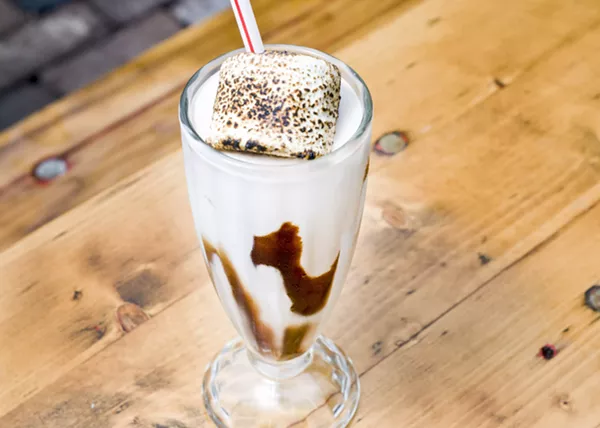 The 90-degree days are here and that means it's milkshake guzzlin' season in Michigan. But with so many options out there, it's sometimes difficult to decide where to go for one's frozen dessert-beverage fix.
Fortunately, we got you covered. We tried dozens of milkshakes across southeast Michigan and put together a list of the 10 best. Those that were inferior didn't make the cut, and we excluded frozen custard because that wouldn't be fair. (Also, we
searched out the region's best custard
last year.)
It should be noted that this isn't just about the best individual milkshake — it's really about the best milkshake experience. There's not much separating each of the individual shakes that made the top 10, but there's more than just the milkshake to consider. We rated the shake shops on six criteria worth 20 points each.
Flavor: Obviously.

Quality of ingredients: Each shop uses high quality products, but those who make their own ice cream in house scored slightly higher.

Consistency: A block of ice cream served with a with a splash of milk in a cup is ice cream through a straw, not a milkshake.

Experience: Is the shop fun, unique, basic?

Creativity/selection: More points for inventive flavors and a wide selection.

Price: There's not a shake on the list that's not worth every penny, but some are a better bargain.

Here are southeast Michigan's top 10 shakes and their scores:
Blank Slate Creamery, Ann Arbor - 109
It'd be a challenge to find a better shake in Michigan than Blank Slate's chocolate fudge brownie, which gets perfect marks for flavor and consistency. Its ice cream is made in house and mixed with Guernsey milk, so Blank Slate also gets a high score on ingredients. The shake is so rich that finishing it is difficult, and the reward for doing so is richer hunks of homemade brownie at the cup's bottom. The small shop is busy during hot evenings so you might have to wait a few minutes, and the experience runs $7.75 after tip for 16 ounces. But $1 more gets you an extra eight ounces, and that's a bargain, if your belly can hold it.
300 W. Liberty Road, Ann Arbor, blankslatecreamery.com
Treat Dreams, Detroit and Ferndale - 107
The Detroit and Ferndale craft ice cream maker's lab consistently concocts some of the finest, creamiest, most interesting flavors, and rolls them out weekly all summer (and winter) long. It's the standard in selection/creativity with the rich and chocolatey I-75 (chocolate ice cream, marshmallow, and almonds) or the wild ketchup flavor. Its dark chocolate chocolate chip shake gets high marks for flavor and ingredients. The shake was on the thick side, though that was an anomaly as Treat Dreams usually nails the consistency. A 16-ounce cup runs $6.75.
4160 Cass Ave., Detroit, and 22965 Woodward Ave., Ferndale, treatdreams.com
Cook's Farm Dairy, Ortonville - 107
Though it's a little odd to think about a milkshake in terms of freshness, a shake made with fresh-from-the-udder milk and freshly made ice cream is glorious. And that's a dimension you'll only find in shakes made by dairy farmers. Cook's herd of cows grazes right outside its ice cream factory's door, all of which are on a quaint little farm in Ortonville. High marks for the s'mores shake, which is made with chocolate, marshmallow swirls, fudge chips and graham cracker crumbles. Cook's also gets solid marks for ingredients, creativity, and experience — there's no other spot in town where you get to hang with the cows while drinking your shake. And a 20-ounce cup runs $6 — that's value.
2950 E Seymour Lake Rd, Ortonville, cooksfarmdairy.com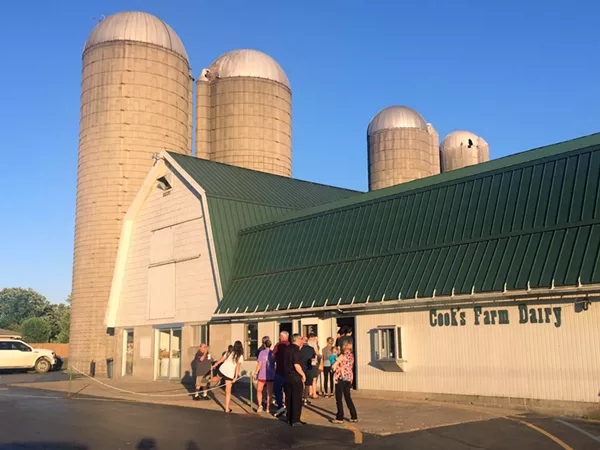 Go! Ice Cream, Ypsilanti - 105
Owner Rob Hess is one of the region's best at developing flavors. We mixed chocolate peanut butter with sweet brown butter ice cream to make one of the quest's more unique shakes. As Hess explains of the sweet brown butter on Go!'s site "We slow-cook blocks of Calder Dairy Farm Butter, resulting in an ice cream with beautiful caramel flavor that slowly develops into a salty, buttery finish." Yes. High marks for flavor, creativity, and ingredients. As with all good things, you're gonna pay a little more than what's at the DQ down the street, but there's a reason for that — it's a top five shake.
10 N. Washington St., Ypsilanti, goicream.com

Guernsey Farms Dairy, Northville - 105
Like Cook's, Guernsey owns a herd of cows, so the milk and ice cream are super fresh, and that's what sets its shakes apart. The chocolate fudge cookie hurricane shake gets high marks for flavor and thickness, while Guernsey offers a solid selection of creative flavors. Priced at about $6.50 for 16 ounces.
21300 Novi Road, Northville, guernseyfarmsdairy.com
Doug's Delight, Hazel Park - 101
Mabel Gray's James Rigato and a few of his homies resurrected and run this Hazel Park ice cream shack, and they managed to keep much of the original vibe intact while putting their own touches on it. For that, it's one of the best spots in metro Detroit in terms of experience. Doug's shakes are the only soft serves to make the list, largely because Rigato uses a high fat ice cream that's super rich. If that still isn't your thing, there's a wide range of Guernsey flavors, and Guernsey, of course, rules. At about $6 for a soft serve shake, Doug's is one of the better deals.
24110 John R Road, Hazel Park
Mercury Burger Bar, Corktown - 100
Mercury's s'mores shake is arguably Detroit's best. Vanilla Guernsey ice cream and milk is mixed with crushed graham crackers and served with hot fudge generously drizzled around the inside of the cup. It's super rich, and is topped with a large, lightly charred marshmallow. There's little in Detroit's milkshake world that belongs in the same class. At nearly $9.48 after tip, this was also one of Detroit's most expensive shakes, and that's where Mercury lost a few points in the scoring. But, on the other hand, that's nearly $10 that I'll gladly spend again. Don't miss this one.
2163 Michigan Ave, Detroit, mercuryburgerbar.com


Ray's Ice Cream, Royal Oak - 100
Ray's began making ice cream on Coolidge Road in 1958, and now serves over 50 flavors. It gets high marks for its ingredients, it nailed the consistency, and the 50's-style shop is a fun place to chill. At a price of $7.73 for 20 ounces, Ray's shakes are on the higher end of the spectrum, but it's worth the extra pennies.
4233 Coolidge Hwy, Royal Oak, raysicecream.com
Lovers Only, Capitol Park - 98
Come for The Extern, but stay for the shakes. Lovers Only uses Michigan's Calder Dairy ice cream and milk, and they're priced to move at $5. The super rich chocolate malt shake is superior to the vanilla, though the latter is still solid, and Lovers Only gets high marks for flavor. It's also one of the funner destinations — try to find another mid-century modern-style burger restaurant in downtown Detroit. It only lost points for creativity/selection as chocolate and vanilla are the only options, otherwise Lovers Only would be at the top of the list. Regardless, these are some of the best vanilla and chocolate shakes out there.
34 Grand River Ave, Detroit, loversonlydetroit.com
Mudgie's, Corktown - 95
Hoooo boy, an horchata milkshake — that alone is worth a trip to Mudgie's. High marks for flavor, which comes from the excellent Calder Dairy. Near-perfect thickness, too. Mudgie's needs no introduction as the Corktown deli is one of the city's most well-loved restaurants, though it's better known for stacking Sy Ginsberg pastrami than mixing Calder milk and ice cream. But perhaps it should be known for the latter, too. There are only three flavors to choose from, but you don't need a lot of options when there's horchata ice cream in the freezer.
1300 Porter St, Detroit, mudgiesdeli.com


So many restaurants, so little time. Find out the latest Detroit dining news with our weekly food newsletter delivered every Friday morning.