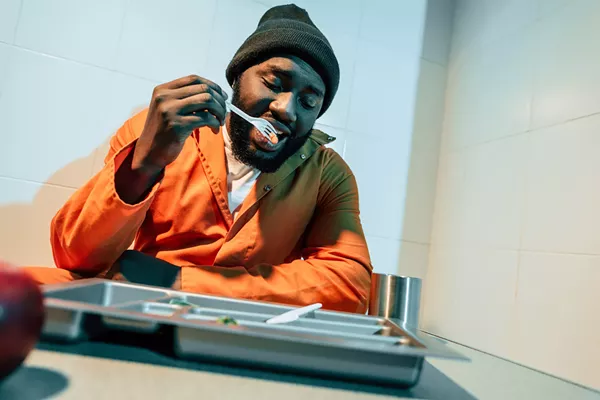 For several years, private food service employees in Michigan's prison kitchens
have been a consistent problem
.
Aramark's employees started running the kitchens when the state privatized prison food service in early 2014, and Tampa-based Trinity Services took over for Aramark in late 2015. Among a litany of issues during that time, employees were regularly caught having sex with inmates, an Aramark employee put a hit out on an inmate, and employees were repeatedly caught smuggling drugs into the prison.
The decision to hire Trinity staff comes after Gov. Rick Snyder announced earlier this year that the state would no longer contract with private food service companies. Instead, the state is creating 345 new MDOC food service positions that it hopes to fill by August 1.
Trinity employees are taking some of those jobs, but it appears the problems are already following them to the state ranks — a Trinity employee tells
Metro Times
that a Trinity supervisor is instructing employees to lie on their resumes if they don't have enough experience to meet state requirements.
Corrections officers tell
Metro Times
that they're concerned about the years of problems with food service workers continuing. In May,
we reported on the wide range of issues
with Trinity staff that officers say put lives at risk.

Documents show some Trinity employees have supplied drugs to inmates, or taken drugs or drank on the job. Trinity employees have had sexual contact with inmates so many times that one officer tells us, "We can tell which new [Trinity] employees will walk out of the prison with a boyfriend."

Officers say that in 2017, a Trinity employee tried to hand keys to a prisoner, then later left keys unattended in a lock. Other employees have lost keys or sharp tools that could be used as weapons. In another instance, an employee was fired for giving an inmate 30 pounds of stolen peanut butter.

Officers say that Trinity employees have been caught smuggling in cell phones, tools, heroin, pills, cigarettes, Seboxone, cocaine, love letters, and other contraband. They've lost track of scissors and knives, don't show up for work, quit during shifts, and steal.
At last count, the state his Trinity workers with 213 stop work orders — which bar employees from prison grounds for violation of MDOC rules — over the last two years. And there are dozens more incidents that corrections offices say should have resulted
Pamela Drew, a retired corrections officer, says she and others are concerned that the MDOC is bypassing its own rules and requirements and the issues will continue.
"If you have the same people then you're going to get the same problems, because they don't know any different," Drew says. "What we're looking at is people who are inexperienced and have no education in terms of food service, so I hardly see any change coming in terms of health and safety, conduct, and behavior."
MDOC spokesperson Chris Gautz tells
Metro Times
that the employees will receive training required by state rules.
"They receive department training that any prison employee has to receive and it includes a wide variety of issues, things like fire safety, overfamiliarity, etc., and then on kitchen-specific issues like food service training, computer software training, food ordering training, and they will get ServSafe certifications," he says. "So we are reviewing those that are qualified to continue working, and we are going through the job interview process now, and if they performed well, they have the possibility of being retained."
Anita Lloyd, communications director for the Michigan Corrections Organization, the union that represents MDOC corrections officers, says that the state makes the decision on who to hire. The union is OK with the state hiring qualified Trinity employees, she adds, but it's watching the situation.
"Hiring is the purview of the MDOC, and we hope that they're thoroughly interviewing employees and vigorously vetting," she says. "Proper training is paramount, too. If something goes sideways, then we would hold the MDOC accountable for their hiring decisions."
State Democratic lawmakers on the House Corrections Appropriations Sub-committee didn't return requests for comment. However, an aide for vice chair Rep. Sylvia Santana strongly denied that there could be any potential problems with hiring Trinity employees.
Still, some union corrections officers say the move is dangerous and suspect that the state is setting up the union to fail.
"They're just setting us up for more problems," Drew says. "But now they can say 'These are state workers who are failing, and there's no difference between state workers and Trinity's workers.' I can hear that coming out of the MDOC spokesman's mouth. The problems are not going to just go away."
She adds that a Trinity supervisor allegedly instructing staff to lie about experience is evidence of things to come.
The Trinity employee who spoke with
Metro Times
about the supervisor did so on the condition of anonymity because the employee is still employed by Trinity for another few weeks. But they said there are a lot of Trinity employees who don't meet the state's eperience requirements.
Still, there's hope that better training, better wages, and better oversight will lead to better employees. Time will tell, but the Trinity employee we spoke with isn't confident.
"It depends [if the state] keeps them or they are hiring them for just long enough to hire better people down the road," the employee says. "Hopefully it does get better, but until they get rid of the [Trinity employees], I don't know if it will."
Stay on top of Detroit news and views. Sign up for our weekly issue newsletter delivered each Wednesday.