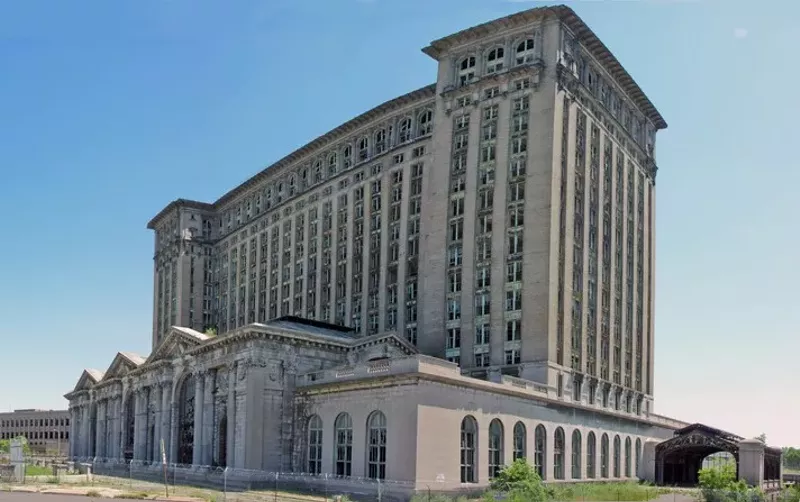 We don't know how much it will cost Ford to transform the derelict Michigan Central Station into a hub for autonomous vehicle technology, and we don't know how much the company paid to buy the building from the Morouns.
We do know, however, that Ford expects to secure what will likely be significant tax incentives to fund the undertaking — though the automaker won't divulge how much those subsidies may be worth.
In a number of interviews with media published yesterday, Bill Ford Jr. released details of his plans for the site ahead of a big Tuesday party to celebrate the future of the train station. The hulking structure will anchor the automaker's planned Corktown campus, where Bill Ford said it will develop autonomous vehicle technology and house 5,000 employees. Things are expected to get going by a target date of 2022.
But Bill Ford was tight-lipped when it came to the financials.
"If we didn't get this on the right terms and feel we got the right incentives and feel this made really good business sense, we wouldn't have done it," Bill Ford told
Crain's Detroit Business.
It's been speculated that, at a bare minimum, Ford's renovation of the historic site would cost $125 million. The estimate is based on a $250-per-square-foot calculation Dan Gilbert's Bedrock real estate uses when it wants to renovate vacant downtown office buildings. That possible price tag, of course, doesn't include how much Ford paid to purchase the property from the Morouns. In his comments published yesterday, Bill Ford says the company put the money into its five-year budget in 2016.
"Doing this building is well within that budget," he told the
Free Press
. "So, there's no new money coming into this, and we're getting some incentives to help us with restoration. So the business case actually works for this very well."
Ford will be able to capitalize on a variety of subsidies to fund the project. If the company expects to spend more than $500 million building out the campus, it could qualify for
transformational brownfield incentives
that would allow it to siphon employees' state income taxes f0r up to a certain dollar amount over a certain number of years. (Here we can look to Gilbert for another useful example — his Bedrock was recently awarded
$618 million in transformational
and traditional brownfields for four downtown Detroit projects the company says will require $2.2 billion in investment.) Ford could also benefit from a recent legislative effort to reinstate the historic tax credits eliminated by Gov. Rick Snyder in 2011. A Republican-sponsored bill would subsidize up to 25 percent of the cost of rehabilitating historic buildings and homes.
Though the public has no knowledge of its possible contribution to the train station's rebirth, it sure as hell appears poised to celebrate. A
big party headlined by Big Sean
will be held at the train station tomorrow. Ford will drum up more excitement for its project with open houses throughout the weekend.
Stay on top of Detroit news and views. Sign up for our weekly issue newsletter delivered each Wednesday.