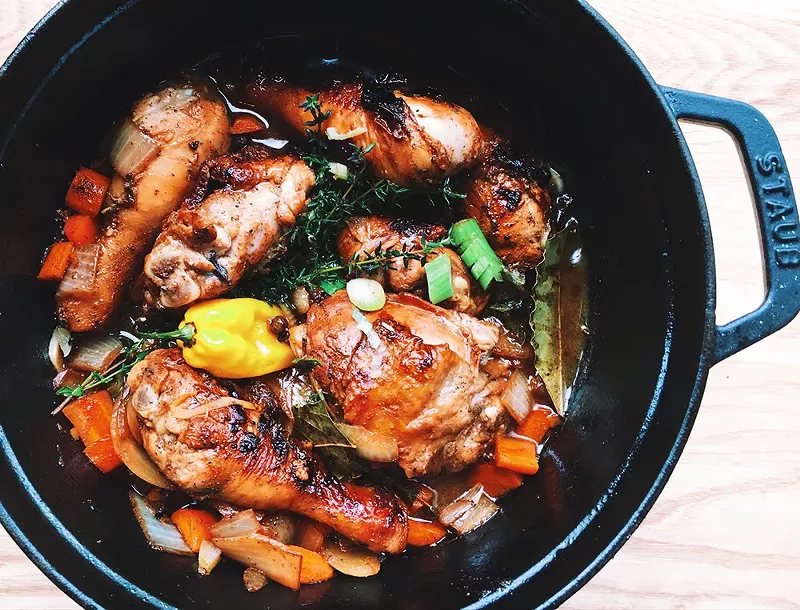 This week's Allied Media Conference will demonstrate how a food system that embodies the values of equitability, sustainability, inclusiveness, and community could look with people of color at its center.
At the heart of that is a series of pop-ups called the Dream Café that will take over Detroit's Cass Cafe for several days, which will bring together a group of local and national chefs of color. They'll take turns collaborating to produce menus offering plates like jerk fried pig ears with tamarind slaw and aioli, nopales salad with Saskatoon berry vinaigrette, beef bacon and smoked gouda frittata accompanied with a savory biscuit, and more.

Organized by AMC and FoodLab Detroit, the Dream Café connects several local black-owned businesses that will offer breakfast and lunch Thursday through Saturday. In the evenings, chefs from around the world will host ticketed dining events at either the Cass Cafe or other venues. The menus for each are built around ingredients grown on Detroit's black-owned urban farms, and are culturally inspired and infused, creative and healthy, and topped with the chefs' heart and soul. Here are some of the week's highlights.
Salt + Ko and Irie Occasions
FoodLab member businesses Salt + Ko and Irie Occasions will kick off day one. Salt + Ko is led by Ryan Eli Salter — aka the Bachelor Chef — who started cooking in college as a means of survival. Being in Australia at the time put Salter in close proximity to Southeast Asia, and those international influences are found in his cooking. Salter will partner with Irie Occasions executive chef and owner, Reniel Billups, who comes from a Jamaican family of culinarians.
Their breakfast includes a crispy curry potato scramble, made of country fried tri-color potatoes scrambled with collard greens, peppers, onions, curry powder, coconut powder, and other seasonings. It will be served with wedges of marinated tomatoes and topped with a fried egg. For lunch, the duo will offer an Isla of Flava sandwich, with super greens, marinated tomatoes, avocado, a jerk-infused avocado aioli, and shredded jerk chicken on a focaccia roll.
Simple Goodness and Relish Catering
FoodLab member businesses Simple Goodness Detroit and Relish Catering will collaborate on day two. Simple Goodness is led by partners Viana Rickett and LaMont Mitchell, whose mission is to make good food from scratch with quality, locally sourced ingredients. Viana discovered her passion for food
service at the age of 33. She had difficulty transitioning from her previous career as an accountant and auditor until Mitchell — an executive chef — gave her an opportunity as a line cook. Meanwhile, Relish owners Le'Genevieve Squires and Brittiany Peeler aim to be environmentally conscious and use products that are locally sourced and sustainable. Both businesses currently host pop-ups around the city, most recently being a part of a collaborative pop-up at Brooklyn Street Local in April.
Breakfast will include a beef bacon and smoked gouda frittata accompanied with a savory biscuit. For lunch, they will offer fish and grits, made of fried catfish and a parmesan polenta grit cake.
NuSoul Bowl and Detroit Soul
FoodLab member businesses NuSoul Bowl and Detroit Soul take over day three with a focus on healthy soul food. NuSoul Bowl owner Doniss Hicks worked as a dietician for 20 years before jumping into the culinary business. After having a stroke in 2015, he began focusing on putting a healthy spin on soul food, now offering customizable vegetarian, pescatarian, poultry, or beef bowls, all of which are available for delivery. Detroit Soul — a family-owned business on the east side — is led by Jerome and Samuel Brown and offers farm-to-table soul food with locally sourced meats and produce.
At Saturday's breakfast, the group will offer a salmon and sweet potato hash made with scrambled eggs, sriracha aioli, and sautéed collard greens. For lunch, they'll have a rainbow kale salad with cilantro, red pepper, red onion, strawberry, pumpkin seeds, and a house-made vinaigrette.
I-Collective
On Friday evening, the I-Collective, a group of indigenous chefs and activists, will host a dinner at the Cass Café at 7:30 p.m. The group stands for four principles — indigenous, inspired, innovative, and independent — and emphasizes that indigenous food sovereignty is critical as many health issues are tied to colonialism and the exploitation of resources and food. Notably, I-Collective aspires to revise American Thanksgiving to present a more truthful version of the history, and they are best known for their 2017 Thanksgiving pop-up in New York City that served "pre-colonial cuisine."
Not only will Friday's dinner focus on these efforts and shed light on the resilience of and societal contributions of indigenous communities, but there will also be a performance by Aadizookaan, a group that specializes in multimedia productions and installations. The word aadizookaan translates to "the sacred spirit of the story," and is from the language of the Anishinable, the first nations people from Detroit.
Guests will be treated to a nopales salad with Saskatoon berry vinaigrette; agave, cholla, and oyster mushroom stew mesquite; and barrel cactus seed tortillas. For dessert, they'll prepare a blue corn and bear root cake with popped amaranth, three-leaf sumac, and fir tip syrup.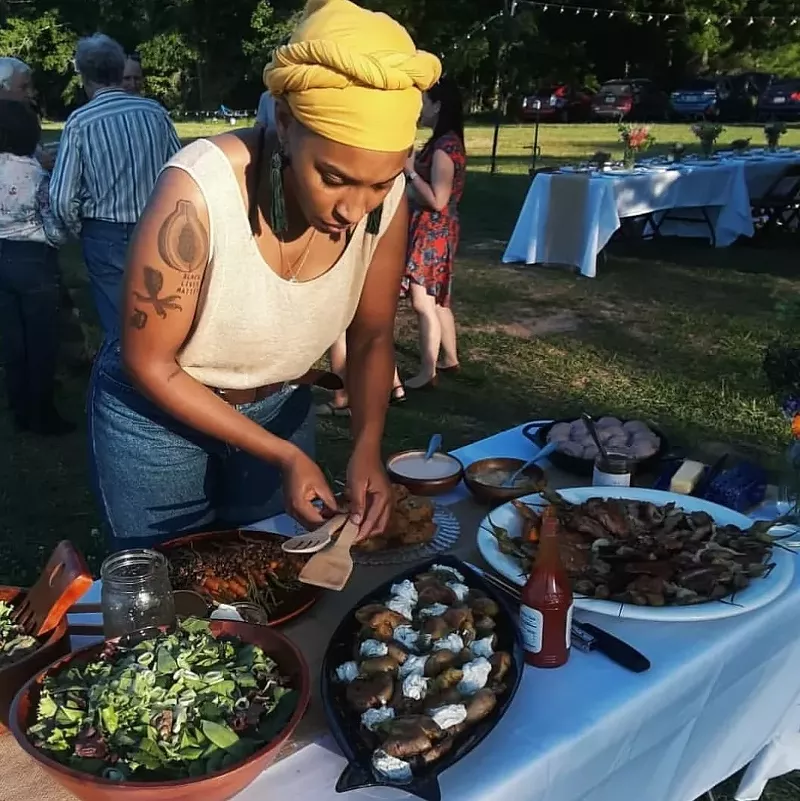 Kit an' Kin and The Supper Club From Nowhere
On Sunday, Chef Anya Peters of Kit an' Kin — a New York-based Caribbean pop-up offering traditional Caribbean and Caribbean-inspired fare — joins north Florida-based chef Kia Damon of Kia Cooks and The Supper Club From Nowhere. Held at FOLK Detroit (1701 Trumbull Ave., Detroit; folkdetroit.com), the dinner, called Matriarchy in the Kitchen, will honor matriarchal ancestors through the exploration of food memory and the ties between Caribbean and Southern cuisine.
Two seatings are available at 5:30 p.m. and 7:30 p.m., and will include appetizers and a family-style main course. Appetizers include jerk fried pig ears with tamarind slaw and aioli, and chitlin shot with mudda in law peppa sauce. Dinner will consist of green seasoned fried chicken and cajun jambalaya, and for dessert, hummingbird cake with maple plantain whipped cream.
The daily pop-ups are open to AMC conference attendees and the public. Breakfast shifts run from 8 a.m. to 11 a.m. Thursday through Saturday. Lunch shifts run from 11 a.m. to 5 p.m. on Thursday; 11 a.m. to 6:30 p.m. on Friday; and 11 a.m. to 4:30 p.m. on Saturday. Evening dinner events will require purchased tickets, although walk-ins are welcomed as space allows. Cass Cafe is located at 4620 Cass Ave., Detroit; 313-831-1400; casscafe.com. For more information and the full Dream Café schedule, see alliedmedia.org/dream-cafe/amc.
So many restaurants, so little time. Sign up for our weekly food newsletter delivered every Friday morning for the latest Detroit dining news.