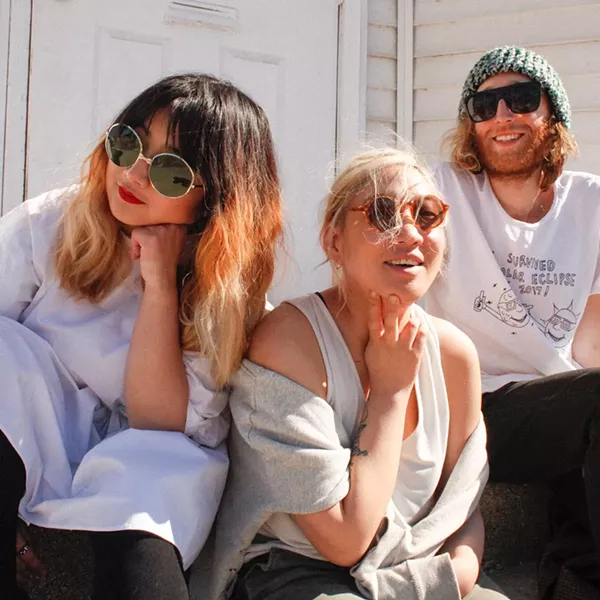 Local garage rock outfit AM People — Niobe Marasigan (bass), Kyle Akey (drums), Ryan Grumbleton (guitar) — are at once deadpan, vibrant, and subtly hilarious. The self-described "goth punk outfit" released their debut LP
Songs For The Mourning
today and are celebrating with a release show at
Outer Limits Lounge
tonight.
The folks in AM People are like the type of friends you can mutually commiserate about the impending doom of our world with, but who also make great companions for watching cat videos and laughing hysterically for hours on end. Their record is pretty much like that, too.
Constructed from distorted, oversimplified lyrics, surf guitar, and apathetic overtones, the record acts as a collection of monotone vignettes that critique the absurdity of life.
Take the lyrics to "Bubbles": "I am a plan / you are a fan / I am afraid / you are OK." At first, it's like, what the hell are you talking about? But then, when you think about it, it actually makes sense. People who plan every detail of their life tend to be stressed out and shitshow people who go with the flow usually seem to be a little happier. Maybe the AM People are on to something? Maybe they're serving up proverbs in the form of ironic grunge rock? Or maybe they're just friends writing songs together? You decide.
You can listen to
Songs for Mourning
here
.
AM People will perform at Outer Limits Lounge on Friday, June 15 at 8 p.m.; 5507 Caniff St., Hamtramck; 313-368-8192; outerlimitslounge.com; Tickets are $5-$10.
Get our top picks for the best events in Detroit every Thursday morning. Sign up for our events newsletter.