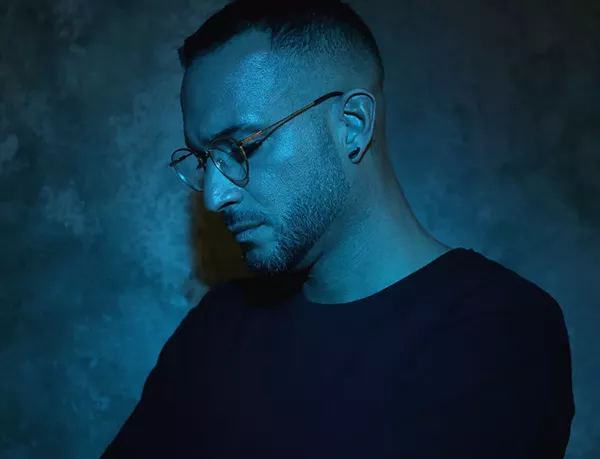 Tech-house producer Loco Dice was born in Tunisia and raised in Düsseldorf, Germany, where he had a 10-year residency at the legendary nightclub Tribehouse. He had another four-year stint at DC-10 in Ibiza from 2002 through 2006, and he's since played countless clubs, beach parties, and headlining sets at the biggest electronic music festivals in the world — including repeat appearances at Detroit's Movement Festival.
In other words, he's a seasoned pro behind the turntables.
So Dice knows better than to plan too much for his back-to-back set with the Martinez Brothers on Sunday night at Movement. They'll decide together on stage, in the moment, how to start and end the set, and what happens in between is all a matter of going with the flow. It helps that they are very familiar with each other's strengths. For example, Dice knows exactly how the brothers will react when he lays down an all-percussion beat, and how to smoothly transition to something different if they aren't feeling it.
"You cannot plan it, and you should not plan it," Dice says. "Maybe it's rainy; maybe the sound isn't right; maybe the crowd is tired. If you have a gameplan, you have to change it right away and that makes you double-nervous. ... We'll communicate sometimes. I'll say, 'Don't play until the break' or 'Jump in already.' There are little asides, but it's a very natural process."
"That's the great thing about playing back-to-back," he continues. "But it should be guys who know each other for a long time before you put them on a big stage like Movement."
Indeed, playing a massive festival is an entirely different undertaking than playing a nightclub to a few thousand people. The spotlight is much more intense under the main stage lights. "The club show is easy," he says. "People are dancing; some people don't even look at the DJ. They're there to meet their friends. At a festival, it's all eyes on us, you know?"
Well, maybe not all eyes. Dice spent his early days as a rapper in the late '90s, and he's as excited as anyone to witness the nine members of the Wu-Tang Clan form like Voltron to celebrate the group's 25th anniversary and its legendary album Enter the Wu-Tang (36 Chambers) on Monday night. But it won't be his first run-in with hip-hop legends at Movement.
"In 2012, I was performed on the main stage before Public Enemy, and I was introduced by Ice-T," he recalls. "That was already like, 'Oh my God! That is so cool and so dope.'" Dice says to be able to headline alongside Wu-Tang Clan "is perfect." "Everything I said would happen in the beginning [of my career] is coming true," he says. "The circle is closed."
In February, Dice dropped "Roots," the first single off his forthcoming album, Love Letters, set for release on July 2. True to the title, the song represents a return to his origins as an artist landing somewhere between house and techno, and the album follows suit, according to Dice.
"It's a diverse sound," he says. "The listener will brand it for himself. All I can say is that it has all the influence of Loco Dice — it's got the hip-hop, it's got the techno, the house music. It's got some minimalistic stuff. But it's 100 percent me."
Despite not planning his setlist, Dice says he'll probably roll out a few new tracks at Movement. But it all depends. He and the Martinez Brothers will show up a few hours early to walk the festival grounds and catch the vibes, and whatever they pick up will inform how they approach the performance.
"It's the biggest and most important festival in the world," he says. "It's the hometown of techo, you know? It's Detroit. There are a lot of things that make this festival so special, and we are blessed and honored to play the closing slot on the main stage. It's heavy duty. We're going to do our best and have a good time, and we'll have some surprises."
Loco Dice will headline Movement Music Festival with the Martinez Brothers at 10 p.m. Sunday, May 27 on the main stage; 1 Hart Plaza, Detroit; movement.us; General admission for one day is $85; General admission tickets for the weekend are $195; VIP weekend tickets are $320.
Get our top picks for the best events in Detroit every Thursday morning. Sign up for our events newsletter.