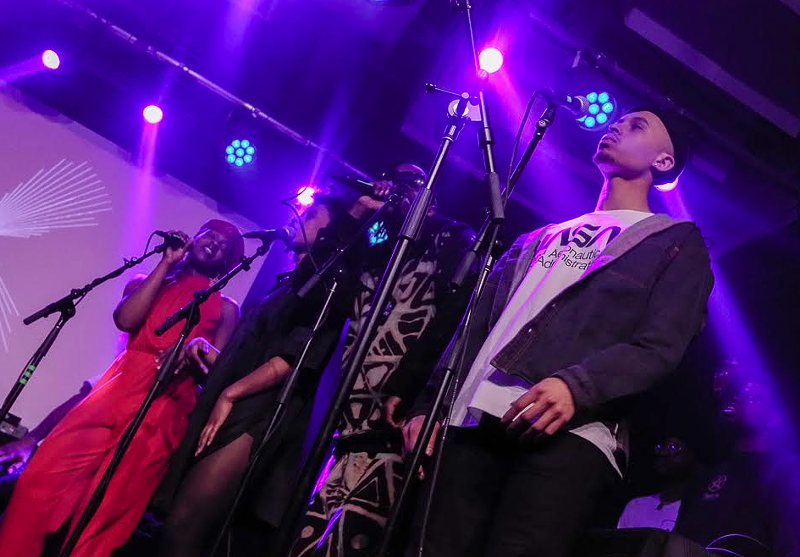 Even if you haven't heard of Video7 by now, it;s likely you've witnessed one of its 17 members captivate a late-night audience somewhere in the city. Dirty Dog? Motor City Wine? Saint Andrew's? Cliff Bells? The Schvitz?
Well, Video7's Cable Nite is your one and only chance to witness the whole squad come together on their own turf. This Saturday is the fifth installment of the collective's signature performance event, and it's the first one of 2018.
Although Video7 is headquartered in Detroit, the group lists Seattle and Los Angeles as satellite cities where additional members work and play. This show invites a few new voices that other Cable Nite audiences haven't heard from yet. For starters, Video7 will welcome one of their resident DJs and producers, DJ WebSlinger, who will be stopping in from Los Angeles to spin before and after the show. Cable Nite 005 also welcomes Kesswa, an emerging Afro-surrealist singer, who will be opening up before the show.
Previous Cable Nite performances have showcased the individual talents of each member, but this event is designed for the audience to have a seamless experience from start to finish. The genre-defying 17-person collective will seamlessly travel through hip-hop, R&B, house, and jazz all in one set. It's like surfing through your favorite channels without commercials. But this time there's no need to set it to DVR because you can experience the action in person.
And Video7 has a busy summer ahead of them. On June 30, the collective will launch its next signature event called Satellite, where other Detroit-based artists can showcase their music and attendees are encouraged to party along with them. Upcoming Video7 show dates include June 17 at the Allied Media Conference's closing ceremony, Aug. 3-4 at Sidewalk Festival, and Aug. 24 at MOCAD.
Video7's Cable Nite 005 is Saturday, May 19 at El Club; 4114 W. Vernor Hwy., Detroit; 313-399-2980; elclubdetroit.com; Doors are at 9 p.m.; Tickets are $7-$12. More information on Video7 can be found at entervideo7.com.


Get our top picks for the best events in Detroit every Thursday morning. Sign up for our events newsletter.