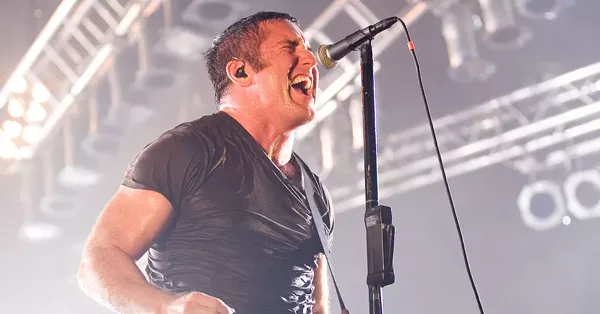 People who like wearing all black, rejoice: Trent Reznor is bringing his merry band of misfits Nine Inch Nails back to Detroit, with two back-to-back shows at the Fox Theatre on Monday, Oct. 22 and Tuesday, Oct. 23. The Jesus and Mary Chain will open both nights.
This is the part of the blog post where we normally tell you when tickets go on sale and direct you to a URL. However, this time Reznor and company are doing things a little differently. In an effort to combat the online resale industrial-complex, tickets for the "Cold and Black and Infinite" North America tour are only available in person at "The Physical World" presale events, which take place at box offices on a first-come, first-served basis.
That means if you want to get your goth on, you're going to have to stake it out with other NIN fans on Saturday, May 19 at Little Caesars Arena Auxiliary Box Office, located off of Henry Street on the Chevrolet Plaza. The line starts at 8 a.m. and tickets go on sale at 10 a.m. for $75, limited to four per person. (A limited number of tickets will also be released online at a later date.)
Per an
"FAQ"
in the press release:
What? Why? Physical World Presale?
The promise of a world made better by computers and online connectivity has failed us in many ways, particularly when it comes to ticketing. Everything about the process sucks and everyone loses except the reseller.

We've decided to try something different that will also likely suck, but in a different way. We're hoping many of you will be happy with the results, while some may do what they always do and bitch about it.

Here's how it works:
You (an actual human being) show up at the box office, interact with the ticket seller (another actual human being) and purchase up to four tickets that will actually be handed to you on the spot. The tickets will not be available online or anywhere else before or during that day. All seats (including the best seats) will be available first come, first serve. You may actually encounter other actual human beings with similar interests likely wearing black clothing during the process and potentially interact with THEM. The experience has the potential* to be enjoyable. Nine Inch Nails has always been about bringing people together, living life to the fullest and good times.**

Any remaining tickets will be sold at a later date.

*not guaranteed
**not entirely true
Man, that Trent Reznor guy sure is a character!
More information is available at
nin.com/tickets2018
. More information about the Detroit dates are available
here
. Nine Inch Nails will release its forthcoming record
Bad Witch
on June 22.
Get our top picks for the best events in Detroit every Thursday morning. Sign up for our events newsletter.