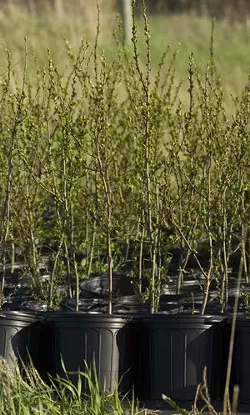 Detroit has become a magnet for tree giveaways as environmental officials and groups seek to replace thousands of trees wiped out by disease and invasive species since 1950. Saturday will be the latest opportunity for city residents to nab a free tree, when about 500 potted saplings will be available at Rouge Park.
The event marks the second giveaway by the Detroit Tree Recovery Campaign, a partnership between the Arbor Day Foundation and the Michigan Department of Natural Resources. The program compliments a tree planting program by the city of Detroit, which plans to
invest millions to plant 10,000 saplings
in neighborhoods throughout the city over the next three years.
Detroit was once known as the City of Trees, but is said to have lost that nickname around 1950, when the stately elms that lined its most prestigious streets were annihilated by Dutch elm disease. Tens of thousands of ash trees planted in their wake were later wiped out when the invasive beetle, the Emerald Ash Borer, made its way to Detroit in the early aughts.
Trees can aid in energy conservation and help increase property values. The saplings to be given away tomorrow are five to seven feet tall and will be distributed in 3-gallon containers. All you need to do to cash in is be one of the first 500 households to show up at the city service yard at Rouge Park near the intersection of Spinoza and Joy roads. The giveaway starts at 9 a.m.
Stay on top of Detroit news and views. Sign up for our weekly issue
newsletter
delivered each Wednesday.