Amazon is quick and Kindle's are convenient but there's something about searching through shelves of dusty old books that our handheld devices can't stand up to.

Independent Bookstore Day, happening Saturday, April 28, celebrates independently-owned bookstores around the country for their impact on their local communities. Local stores look at this day as a chance to reward frequent customers and bring in new ones through a shared passion for reading.
If you're out and about on this book-lovers holiday, stop into one of these Metro Detroit stores to support these spaces where classic novels and hidden literary treasures fill the shelves.
Note: All hours listed reflect are Saturday hours in honor of Independent Bookstore Day
26010 Greenfield, Oak Park; 248-968-1190; Open 10 a.m. to 7 p.m.
This Oak Park book spot will have local authors signing their latest books, an author recommended shelf, and special book-related goodies available only on that day—including a free-with-purchase "Read, Think, and Create Tik-Tok of Oz" book bag to haul away your reading stash. Visit their website for an author signing schedule.
620 West Court St., Flint; 810-0407-6402; Open 10 a.m. to 7 p.m.
If you're in Genesee County on Indie Bookstore Day, consider stopping by the independently owned and operated Totem Books. New and used books are on display along with vinyl records, vintage t-shirts and pins, and CDs and cassette tapes.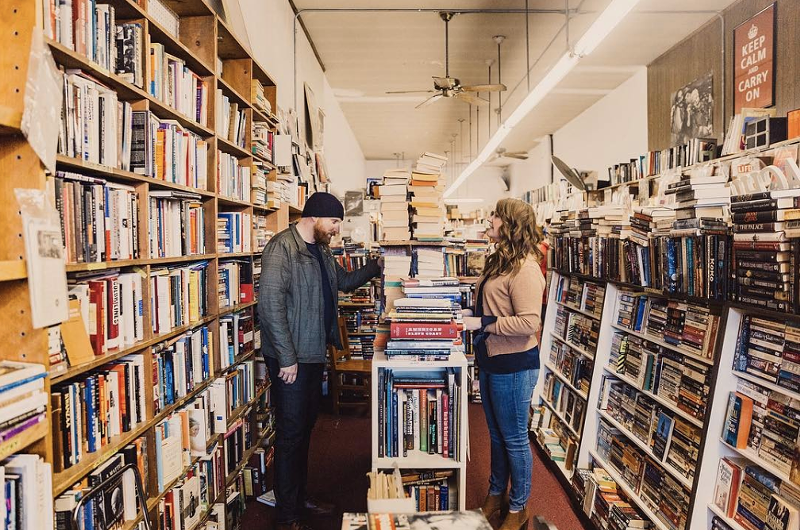 169 W. Nine Mile Rd., Ferndale; 248-545-4300; Open 10 a.m. to 7 p.m.
Located in the heart of downtown Ferndale, Library Bookstore is an easy stop when you're out and about. Take a step back in time as you walk in the front door and are met with that warming old book smell. You won't find this store online at all - come by and find your new favorite old paperback.

Crazy Wisdom Bookstore and Tearoom
114 S. Main St., Ann Arbor, 734-665-2757, Open 10 a.m. to 11 p.m.
Another Ann Arbor book stop, Crazy Wisdom has been locally owned and independent since 1982. Crazy Wisdom specializes in the subjects of holistic health, body-mind therapies, psychology, Buddhism, alternative spiritual practices, spiritual development, and consciousness. Tea is always available in the Tea Room - try their April Drink Specials for soothing seasonal sipping.
22263 Goddard Rd., Taylor; 734-374-5665
A catchy name and a bright pink sign are welcome sights for Taylor book lovers. Inside, a special collection of adult coloring books awaits for those who enjoy staying inside the lines. Another Look has been closed recently and is in the process of reopening. They've mentioned reopening in late April, just in time for Indie Bookstore Day - keep an eye on their Facebook page for an official announcement.


19560 Grand River Ave., Detroit; 313-473-7342; Open 11 a.m. to 7 p.m.
This new indie bookstore in Detroit's historic Grandmont Rosedale neighborhood boasts a carefully curated collection of books from and about Detroit. On Independent Bookstore Day, Pages will welcome local author Annie Spence as a guest bookseller from noon until 2 p.m. and local authors Amy Eckert, Kim Schneider, and Kath Usitalo at 3 p.m. Bake goods from Bakefiniti will be on sale for the hungry book hunters. Pro tip: ask shop cat Pip for suggestions.


317 Braun Court, Ann Arbor; 734-663-0036; Open 11 a.m. to 10 p.m.
If you're interested in Feminist or LGBTQ literature, Common Language has you covered. Recently, Common Language has received an influx of online orders after a link to their store was shared on Tumblr and went viral, ushering in over 200 online orders for a store that usually only handles a few per month. With their recent boom in business, this queer bookstore has a bright future ahead.
31208 5 Mile Rd., Livonia; 734-524-1163; Open 10 a.m. to 6 p.m.
Books Connection has been corporate free since opening in 1981. Darby, their popular dog employee, is a frequent site around the store which is filled with book titles in mystery, romance, science fiction, self-help, and history.


4240 Cass Ave. #105, Detroit; 313-832-1155; Open 11 a.m. to 7 p.m.
The sign in the window says it all: "a unique niche of non-fiction books". The Midtown shop also has "unusual sidelines," including oils, incense, raw snacks, and shea butter products as well as a rotating calendar of events.


Black Stone Bookstore and Cultural Center
214 W. Michigan Ave., Ypsilanti; 734-961-7376; 11 a.m. to 5 p.m.
This independent Ypsi shop specializes in African American books. Many of their book's subjects cover African culture, religion, and urban fiction. On Indie Bookstore Day, Black Stone will host a BMR (Black Men Read) Kid's Club session from 11 a.m. to 12 p.m. - a program that focuses on sharing stories of Black and Brown people with local youth.


John K. King Used and Rare Books
901 W Lafayette Blvd., Detroit; 313-961-0622; Open 9:30 a.m. to 5:30 p.m.
Billed as Michigan's largest used and rare bookstore, John King is a book collector's wildest dream with about 1,000,000 books in stock. Get lost in their never-ending collection of literature that Salon magazine described as "one of the largest and strangest collections in North America."


John K. King Books North
22524 Woodward Ave., Ferndale; 248-548-9050; Open 10 a.m. to 6 p.m.
This expansion store of the original John King Detroit store may not be as big as the main location but is equally as dedicated to housing used and rare books. Entire shelves are dedicated to well-known authors like Stephen King and Agatha Christie while others houses rarer finds. John King stores aren't big on computer systems, so don't be afraid to ask one of their knowledgeable employees for help.
1729 Plymouth Rd., Ann Arbor; 734-369-4345; Open 11 a.m. to 9 p.m.
Peter and Megan Blackshear own this independent Ann Arbor store with a desire to share their love of books with their town. Their canine companion, Shop Dog, can usually be seen lounging around the store while you peruse through Bookbound's large selection of new and used books.


124 E. Washington, Ann Arbor; 734-585-5567; Open 10 a.m. to 10 p.m.
Imagine enjoying a fresh espresso in your hands, a nice book in your lap, and some hip tunes being played softly in the background. Now just walk into Literati in Ann Arbor and realize that you're in a fantastic bookstore. They have poetry readings, open mic nights, book clubs, and special guest author readings. Plus, you can go to the store to browse, but the store also offers online ordering in case you can't make the trip to Literati.
Brown's Family Bookstore
27309 Harper Ave., St. Clair Shores; 586-773-7370; Open 11 a.m. to 5 p.m.
Located in a strip mall in St. Clair Shores, Brown's is the sort of place you'd pass right by unless someone told you it was worth a stop. Step inside the shop and you'll find stacks on stacks of books packed nice and tight for your browsing pleasure. With helpful store owners and that great "old book smell," Brown's Family Bookstore is well-stocked with both old and new books for every bookworm.
2513 Jackson Ave., Ann Arbor; 734-662-0600; Open 9 a.m. to 8 p.m.
This Ann Arbor indie bookstore opened in 1991 as a Little Professor bookstore but was purchased by Schuler Books in 2014. On Indie Bookstore Day, Nicola's will have giveaways every hour, a story time at 11 a.m., and a guest appearance by author Richard Retyi to discuss his collection, "The Book of Ann Arbor."
Get our top picks for the best events in Detroit every Thursday morning. Sign up for our events newsletter.