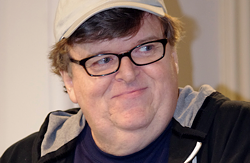 Filmmaker Michael Moore has given Governor Rick Snyder a taste of his own poison — symbolically, anyway.
The Flint native reportedly pulled up to the Michigan Capitol yesterday with a tanker truck reading "Flint Water," and sprayed water at the building with a hose. Moore then called out the governor and raised a full glass — "Gov. Snyder, drink the water."
All this played out with a film crew on hand, the
Detroit News
reports
.
It's not clear what the footage is for. When a reporter asked, Moore was said to have claimed he "didn't have anything else to do today." Someone else apparently said something about a Go-Gurt commercial.
Michael Moore shows up in front of the Michigan Capitol with a truck labeled "Flint Water" and squirts some on the lawn and sidewalks. pic.twitter.com/3Y8FgXcUaE

— Dale G Young (@DaleGYoungPhoto) April 20, 2018
Governor Snyder was, sadly, not on hand for the theatrics. He's been abroad on one of his "trade missions," and actually, had he been in Lansing, the fake poison water likely would have sprayed in his opposite direction. The
News
pointed out his office is actually across the street from the Capitol.
But the gesture is certainly timely. Snyder this month
discontinued bottled water service
for Flint, where many remain distrustful of what's coming out of their taps because the city's pipes haven't been replaced. Yesterday, just after Moore's film crew pulled off, news broke that a federal judge had
denied a request
to order Michigan officials to resume the free bottled water distribution program.
Sneak peak of Michael Moore's next film? He wouldn't say what the #flintwatercrisis film shoot at the Michigan Capitol was for pic.twitter.com/pjKnID0srs

— Jonathan Oosting (@jonathanoosting) April 20, 2018