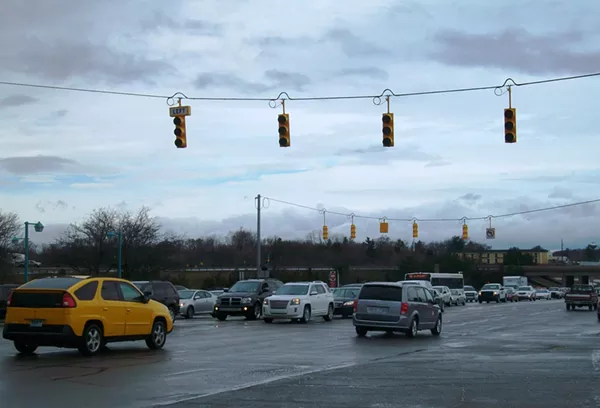 It's fucking snowing in April and you may still be without power in your winter hell dungeon of a home. The last thing you need is a car accident because you treat a down stop light like a four-way stop. Wait, what?

Michigan State Police took to Twitter last month to remind the general public that we have no idea what we're doing.


2) Answer: The intersection reverts back to the basic right-of-way requirements, not a four-way stop. Use caution and courtesy! pic.twitter.com/tY9Tjr6Nih

— MSP Metro Detroit (@mspmetrodet) March 7, 2017
So, in short, we've all been doing it wrong and whoever taught you to drive is likely still doing it wrong and it's a goddamn miracle we haven't all been killed by this longterm miseducation.
By 8 this morning, MSP reported 30 crashes in the metro area during the morning commute. Could it be... our general confusion over what to do at a non-working stoplight?
We are up to 30 crashes around the district! Please watch your speed! And increase your following distance. pic.twitter.com/NzdT3QP4P9

— MSP Metro Detroit (@mspmetrodet) April 17, 2018
A right-of-way means that if you reach an "uncontrolled" intersection, the vehicle who reached it last is the driver that must yield. If you reach the intersection at the same time, however, the driver on the left should yield the right of way because that makes total sense.
Needless to say, the Twittersphere is calling bullshit.
.@mspmetrodet A live look at Michigan drivers using "right-of-way." pic.twitter.com/eUdcxAweDH

— Eli Newman (@other_eli) March 9, 2017
Governor Snyder even released a statement that says down traffic lights should be treated as 4-way stops in an emergency.
But MSP is not having it.
No is not. We are working on a link. We are finding 140 characters isn't enough to explain the law. We will post this ASAP!

— MSP Metro Detroit (@mspmetrodet) March 10, 2017
And some people are using the thread to fight contradicting traffic violations.
While others are just putting MSP on blast.
wtf even if those are the official rules, no one knows that. You suckas gonna get someone killed

— Greg (@GregMonahan) March 9, 2017
I suppose everyone actually has been driving on the wrong side of the road too. Dang.

— Smorfnimda (@smorfnimda) July 9, 2017
While MSP sorts this whole mess out, just drive safe. And as always, curse your driver's ed teacher.
Stay on top of Detroit news and views. Sign up for our weekly issue
newsletter
delivered each Wednesday.