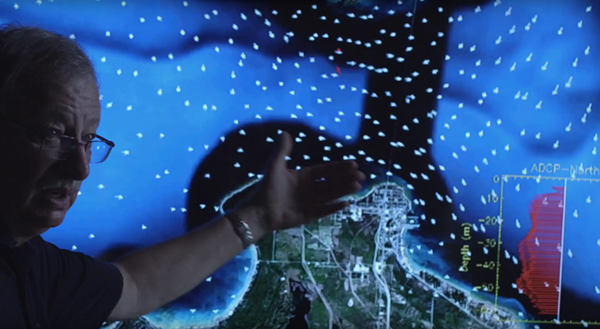 Part one of a new feature-length documentary on the Great Lakes' controversial Line 5 oil and gas pipeline now has a release date.
Line 5: Part One: The Threat
will be available to watch at 6 p.m. on Tuesday, April 10 on YouTube and Vimeo.
According to filmmaker Barton Bund,
Part One
will be followed by the release of a feature-length documentary sometime later this year.
"As Enbridge Line 5 approaches its 65th year of operation, we are proud to be making our case," Bund says. "The pipe is old, damaged, and a spill from this line would be catastrophic to the entire Great Lakes system."
Bund describes the first installment as "like a cross-examination." "Through our research and interviews with Beth Wallace of the National Wildlife Federation, and engineers Ed Timm and Roger Gauthier, we have been able to refute Enbridge's claims that the pipe is safe and in good working condition," he says. "We examine the possibilities of a spill under ice cover, and in many different weather scenarios. I am hoping that the film will empower our local communities, arming them with the facts they need to make informed judgments."
The pipeline, located along the bottom of the Straits of Mackinac, has been under increasing scrutiny in recent years. Operator Enbridge Energy was forced to install new anchoring after it was revealed the strait's shifting sands had left large expanses of the structure unsupported — a violation of the state's easement agreement with the company. Recently, Enbridge has been under fire for downplaying damage to the pipe's enamel coating.
Even pro-business Gov. Rick Snyder has said he was "no longer satisfied" with the operation of the pipeline, and the state is researching the possibility of moving it to an underground tunnel.
Scientists believe the powerful, oscillating currents common in the Straits could cause an oil spill to contaminate both Lake Michigan and Lake Huron, where it could affect more than 700 miles of coastline.
The trailer for the film is below. More information about the film is available at
line5film.com
.
You can revisit our 2015 cover story on Line 5
here
.
Stay on top of Detroit news and views. Sign up for our weekly issue newsletter delivered each Wednesday.