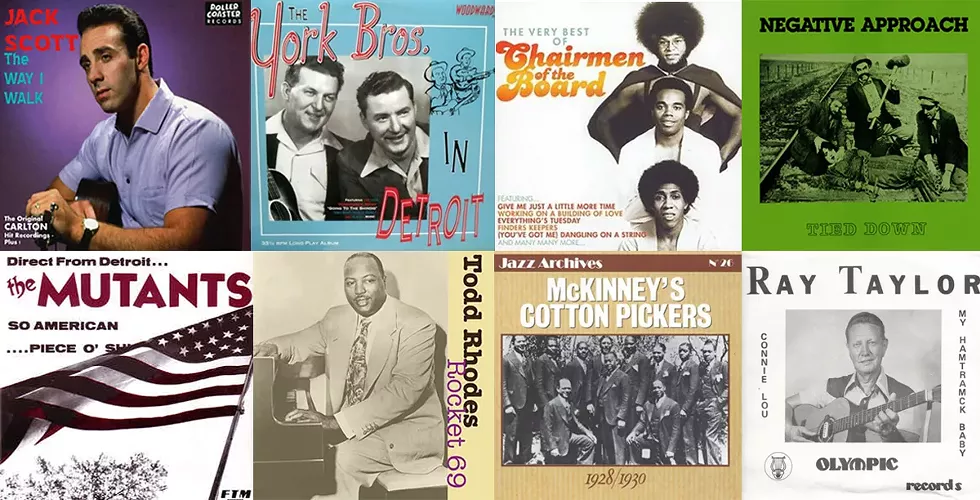 When it comes to the sheer amount and variety of music produced, not many cities can hold a candle to Detroit. Talk about "kicking out the jams" — from Motown to Iggy and the MC5 to techno to the White Stripes, Detroit done kicked 'em out. And just as rock 'n' roll has always been a melding of black and white roots music, the racially mixed working-class town seemed to thrive on that fusion, throwing off white soul screamers like Mitch Ryder or the spare and tantalizing sounds of such Afro-futurists as Juan Atkins, Derrick May, and Kevin Saunderson. A lot of Detroit's greatest hits straddle the past and the future at the right time, such as a backward-looking rock quartet like the Romantics crashing the new wave 1980s or a scrappy, blues-influenced rock duo like the White Stripes challenging the slick, pop-inundated turn of the century. That helps make these bands so memorable.
But then there's the stuff you never, ever expected Detroit to have produced. Guess what? If you look through the bins, you'll find it, right where you least expected it, hiding in plain sight — among all the ethnic recordings, hillbilly regionalism, scummy punk, doo-wop, wacky rap, crazy pop, red-hot jazz — and plenty of it is better known among niche fans today than it ever was. Heck, you might not even realize that ditty you know from oldies radio came out of Detroit. Maybe a few of these songs are like that:
Since 1927, when the Buckeye combo McKinney's Cotton Pickers came north to Detroit, the city gained an edge on the still-young art form. That attention-getting rhythm provided a canvas for the captivating solos heard on such discs as 1929's "Will You, Won't You, Be My Babe" helping turn up the musical heat in Detroit's Paradise Valley.
Another jazzy group with a big, big sound owes a debt to McKinney's Cotton Pickers – the group's pianist started his own big band, Todd Rhodes & his Orchestra. The group's "Redskin Rhumba," recorded for Sensation Records in July 1947, is hard-to-find but essential listening. One of our critics once called it "a souped-up version of 'Redskin Rhumba' (itself based on "Cherokee") [that] fuses elements of gospel, jazz, R&B, and rock 'n' roll, creating three minutes of drivin', high-energy Detroit music." Perhaps you've heard Rhodes' band's 1952 ditty, "Rocket 69," on the soundtrack to Fallout 4.
During the 1940s, the Great Migration saw tens of thousands of Southern African Americans pour into Detroit — along with about the same amount of Southern white people. Given the way Detroit's music business was integrated with jukeboxes and bars, Detroit had a ready-made market for homegrown country music. Aside from a few novelty hits that were never forgotten, such as "My Hamtramck Baby" by Ray Taylor or "Hamtramck Mama" by the York Brothers,, that unsung history got shined up for a brand-new generation in the 2013 book Detroit Country Music: Mountaineers, Cowboys and Rockabillies by Craig Maki with Keith Cody.
Detroit also had a serious polka scene back in the day. Of course, few take the music very seriously, but Hamtramck's ethnic band scene included such forgotten names as Johny Sadrack, Stas Wisniach, and Wally Duda. Their contributions were mostly unheralded, especially when they joined other bands as session musicians, ranging from jazz to country to rock. But if you have the chance to pick up a Decca recording of "There's a City Called Hamtramck" by Ted "Horn Man" Gomulka ("There's pierogi, kielbasa, kapusta/ And a lot of other food you won't be used to."), see if you don't crack a smile.
Detroit had a few notable recording artists during the doo-wop era of the 1950s and 1960s. Take Nolan Strong & the Diablos, for instance. Give 1956's "You Are" a spin and you'll be struck by the agile vocal gymnastics. It's a spare arrangement, without the cruise control glide of later Motown, but the raw talent lays the foundation for the later finesse. The cool style of Jack Scott is more subdued, with none of the ear-piercing vocalization of a Nolan Strong, but that crooning tenor with the skinny tie had a charm all his own. Called Detroit's first white rock star, he was actually an Italian lad from across the river in Windsor. Perhaps his charm was best expressed in 1959's "The Way I Walk," which Lux Interior of the Cramps would later derange with his psychobilly stamp of approval. (Now you know what song we're talking about, right?)
The city's back-catalog also includes a few "missing link" soul combos, such as the Falcons. In 1962, the interracial harmony combo put out "I Found a Love," which mixed a big, gospel-influenced soul sound with some very basic electric guitar. The group never got the traction, but the single is now a collector's item that will keep you listening until the final, scorching, impassioned scream.
The most serious Motown fans will already know all about how the Holland-Dozier-Holland songwriting team left Motown in 1967 to start Invictus and Hot Wax, and set up the group Chairmen of the Board, featuring quirky General Johnson on lead vocals. But if you know them only for that one song they play over and over on AM 580 (the group's Harrison Kennedy was Canadian-born), realize that the trilling, hiccuping vocalist on "Give Me Just a Little More Time" is another piece of Motor City musical history.
Another Motown heavyweight, a member of the Funk Brothers studio band, was a guy named Dennis Coffey. In 1971, his instrumental single "Scorpio" became a super-hit, selling a million copies. The next year, Coffey helped produce a good-time, soft-rock hit for Detroiter Jim Gold's band Gallery, called "It's So Nice to Be With You." Though the tune still gets airplay as a golden oldie, nobody today seems to recall Gallery as a Detroit band. Meanwhile, Coffey, in his late 70s, still plays around town.
Can you believe there was ever a "Hamtramck sound"? Some people argued that there was such a thing, embodied in the stage-stompers at Lili's 21 on Jacob Street in the late 1970s and early 1980s by such bands as the Reruns and the Mutants. Today it all sounds so innocuous, but their hooky, upbeat power pop and good-time (if winking-eyed) rock 'n' roll was a little bit too edgy in the days when Huey Lewis & the News ruled the charts.
Since the days of big documentaries like American Hardcore or oral histories like Why Be Something You're Not, throw a fistful of rice and you'll hit somebody who knows what Negative Approach is. That and a slew of other Detroit bands, including the Meatmen, and Ohio's the Necros for good measure comprised the first wave of American hardcore punk. Consisting largely of searing, 60-second songs written in two minutes by musically untrained 18-year-olds, the musical movement imploded before it could ever hit the big time. These days, Negative Approach plays for crowds in Europe.