Events Search – User Submitted
1 total results
Wed., Nov. 21, 9 p.m.-2 a.m.

734-992-3556
DJ/Dance
Great Staff, Drinks, and DJ! --Mixing up Old & New Top 40 / Hip-Hop / R&B --Country / Rock included Early (9-1030) w/ Requests Drink Specials ALL NIGHT! Bring a Toy for Toys for Tots & Receive a $5 Voucher As Always - Please Be Safe and Drink Responsibly FREE
JT's Pub and Grub
(map)
41111 East Huron Dr.
Great Farmington Area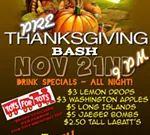 Showing 1-1 of 1 total results in this search.