Events Search – User Submitted
5 total results
Saturdays, Sundays, 10 a.m.-2 p.m.

313 961 1960
lewis.ulinder@gmail.com
Brunch
Includes never-ending trips to the buffet with our hot chocolate & coffee bar. Featuring an array of breakfast items and delicious entrées like baked ham, BBQ chicken, macaroni & cheese, shepherd's pie & more! Also, your choice of made to order omelets, hand-dipped french toast, buttermilk pancakes & Belgian waffles delivered to your table or choose any of our delicious chef's entrée's featuring eclectic omelets, stacked waffles, flavor infused and smothered pancakes & waffles. Featuring desserts, bread & bagel station, fresh salads & more! 19.99 / Kids 9.99
https://www.facebook.com/events/465350437232429/
Sundays, 10 a.m.-12 p.m. Continues through July 5, 2020

586-913-6023
mike.przbylo@teamrwb.com
Nature walk, Support group, Volunteering
Join Team Red White and Blue and 22UntilNon for a stroll in downtown Detroit. Feel free to bring a ruck, or just come to walk. We plan to ruck 4-6 miles and start and finish at Bobcat Bonnie. free
https://www.facebook.com/groups/939492016123445/
Bobcat Bonnies
(map)
1800 Michigan Ave
Corktown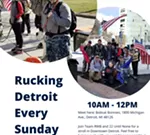 Mondays, 9 p.m.-1 a.m.

313 961 1960
Kyle.catarino@mcshanespub.com
Karaoke/Open Mic
Karaoke & Industry Night with Robby Robb $2 PBR, Miller High Life & Strohs $4 Jameson $6.25 Select Appetizers
Sat., Dec. 1, 6-9 p.m.

313-961-1960
Kyle.catarino@mcshanespub.com
Drink Up!
"On the 12th beer of Christmas, my true brew came to me" Santa will be gathering his little helper brewers for his 12 favorite Christmas & Winter beers. Don't worry he will also fill your stockings with some of his other favorite Holiday beers too! Featuring live Entertainment & Chef's Tasting Menu, Brewers Bells, Southern Tier, Anderson Valley, Dark Horse, Founders, Dogfish Head, Arbor Brewing Co., Frankenmuth Brewing, Atwater, Jolly Pumpkin & more! Chef's Tasting Menu Pepper-Glazed Goat Cheese Gratin Braised Turkey Tenderloins Beer Bread & Apple Sausage Stuffing Roasted Potatoes & Brussel Sprouts Apple Cobbler $30 or purchase tickets online on or before Nov. 25th $25
https://www.eventbrite.com/e/december-beer-tasting-christmas-winter-beers-tickets-52090773907

Fri., Dec. 14, 8-11:30 p.m.

313-961-4668
suestatic@gmail.com
Live/Concert, Fundraiser
The 16th annual showcase raises donations for the city's homeless pets and people. 7 singer-songwriters perform for the cause! $6
https://www.facebook.com/events/320661188515377/
PJ's Lager House
(map)
1254 Michigan Ave.
Corktown

(313) 961-4668
Showing 1-5 of 5 total results in this search.