Events Search – User Submitted
3 total results
Thursdays, 9 p.m.-2 a.m.

313-873-1739
nicolefreemanmanagement@gmail.com
Live/Concert
Northern Lights Lounge Proudly Presents Neo Soul & Jazz Cabaret w/ Sky Covington Ft. Club Crescendo Jimi Blues on Keys Alex Brooks on Drums Greg Cook on Bass & Special Guest Northern Light Lounge | 9:00 pm - 1:00 am | No Cover 660 W. Baltimore Detroit , MI northernlightslounge.com Free
Northern Lights Lounge
(map)
660 W. Baltimore St.
New Center

(313) 873-1739
Fri., Nov. 23, 9 p.m.-2 a.m.
DJ/Dance
Paxahau Presents: Josh Wink With support from: Andrea Ghita Friday, November 23 Marble Bar 1501 Holden St. Doors open at 9pm 21+ welcome $10+
https://www.facebook.com/events/300733370482036/

Marble Bar
(map)
1501 Holden St.
New Center

313-551-3158
https://www.facebook.com/marblebardetroit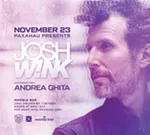 Sundays, 8 a.m.-10 p.m.

313-724-8489
info@schvitzdetroit.com
Self-care
Unwind back in time at the newly restored Detroit jewel, The Schvitz. Old school therapy, historic eastern European steam room, Himalayan salt dry heat sauna, cold pool, restaurant, lounge, outdoor deck. Sunday 8-noon (men), noon-4 (women), 6-10 (ce-ed, bathing suits required). Do something good for yourself. $30.00 $30.00
http://www.SchvitzDetroit.com
The Schvitz
(map)
8295 Oakland St.
New Center
Showing 1-3 of 3 total results in this search.