Events Search – Tickets Available
3 total results
Sat., Nov. 24, 9:30 a.m.-12 p.m.

404.913.1298
wwbreakfastclub@gmail.com
Support group
Back Down Memory Lane... It's been 2 WHOLE years since we started the Wonder Woman Breakfast Club, two years ago in Mr. Lyles' restaurant. Rozalind Nelson was our vendor and Mr. Lyles' had a tragedy the morning of the event! But like the Super Women we are we persevered that day and we're STILL standing! We'll commemorate the WONDER Woman Breakfast Club's beginning and your STAYING POWER on the 24th. We hope you'll join us. We'd love to celebrate with YOU. #WWBC #IAmMySisterKeeper #HearMeROAR #ImagiNATIONSeries2018 #VBTouray $30 Early Bird
https://www.facebook.com/events/540867499715576/

The Alleycat Cafe
(map)
31 N. Saginaw
Downtown Pontiac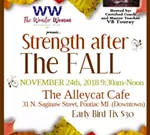 Fri., Nov. 30, 4-8 p.m., Sat., Dec. 1, 12-6 p.m. and Sun., Dec. 2, 12-6 p.m.

248-745-3786
epiphanyinfo@epiphanyglass.com
Art Opening, Art Showing, Art Lessons
Join us for this free event, open to the public- families with children welcome! Watch glassblowing demonstrations, shop in our gallery for one-of-a-kind sculptures and unique handmade gifts. 15% off gallery prices! Like to try your hand at glassblowing? Please visit www.epiphanyglassstore.com to book your appointment. Space is limited so reserve your space today! Workshops are $60 per person. Payment only required for workshops. $60 for workshops
http://www.epiphanyglassstore.com

Epiphany Glass Studio
(map)
770 Orchard Lake Rd.
Greater Pontiac Area

(248) 745-3786
Thu., Jan. 31, 7:30-10:30 p.m.
Dance performance
At the center of every circus we find a 42ft ring full of thrills, laughs and excitement. In 42ft – A Menagerie of Mechanical Marvels, Cirque Mechanics dares us to leap into the circus ring to experience the endurance of this evolving art form.

The Whiting
(map)
1241 E. Kearsley St.
Greater Pontiac Area

810-237-7333
Showing 1-3 of 3 total results in this search.