Events Search – Tickets Available
1 total results
Sat., Dec. 1, 6-9 p.m.

313-961-1960
Kyle.catarino@mcshanespub.com
Drink Up!
"On the 12th beer of Christmas, my true brew came to me" Santa will be gathering his little helper brewers for his 12 favorite Christmas & Winter beers. Don't worry he will also fill your stockings with some of his other favorite Holiday beers too! Featuring live Entertainment & Chef's Tasting Menu, Brewers Bells, Southern Tier, Anderson Valley, Dark Horse, Founders, Dogfish Head, Arbor Brewing Co., Frankenmuth Brewing, Atwater, Jolly Pumpkin & more! Chef's Tasting Menu Pepper-Glazed Goat Cheese Gratin Braised Turkey Tenderloins Beer Bread & Apple Sausage Stuffing Roasted Potatoes & Brussel Sprouts Apple Cobbler $30 or purchase tickets online on or before Nov. 25th $25
https://www.eventbrite.com/e/december-beer-tasting-christmas-winter-beers-tickets-52090773907

McShane's Irish Pub and Whiskey Bar
(map)
1460 Michigan Ave.
Corktown

313-961-1960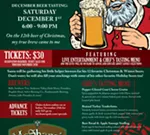 Showing 1-1 of 1 total results in this search.