Events Search – Staff Pick
2 total results
Sat., Feb. 23, 8 p.m.
Live/Concert
There's a "Starman" waiting in the sky — his name is David Bowie. Since his death in 2016, a lot has ch-ch-changed. Keeping with tradition, A Bowie Celebration will return to the Royal Oak Music Theatre starring alumni players from Bowie's many recording and touring bands. Led by Mike Garson, Bowie's longest-standing member, the lineup boasts guitarist Earl Slick, Gerry Leonard, Carmine Rojas, Mark Plati, Charlie Sexton, and others. At this point, for many of Bowie's supporting rebels, the material is a marriage of muscle memory and the preservation of legacy, but the team's collective priority is to get it right. For some, this is the closest they will get to a Bowie performance. For others, it's a time capsule of rock 'n' roll's golden years. $35+

Royal Oak Music Theatre
(map)
318 W. Fourth St.
Downtown Royal Oak

248-399-2980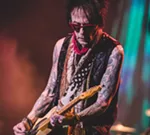 Wed., April 10 & 7 p.m.
Live/Concert
If you're a Spiritualized fan, you have to take your pleasures when you can. Frontman Jason Pierce is known to take years between records — his latest, And Nothing Hurt, dropped in September, the psych-soul project's first since 2012's Sweet Heart Sweet Light. Somewhat alarmingly, he told The New York Times, "Every time I make a record, I forget everything I've learned about how to make a record." He has also said that And Nothing Hurt — a decidedly stripped down record compared to his 1997 breakthrough Ladies and Gentlemen We Are Floating in Space — could be his last. Fortunately for Detroit area fans, Spiritualized has announced a 2019 North American tour, with an April 10, 2019 stop at the Royal Oak Music Theatre. TBA
https://www.spiritualized.com/live

Royal Oak Music Theatre
(map)
318 W. Fourth St.
Downtown Royal Oak

248-399-2980
Showing 1-2 of 2 total results in this search.