Events Search – Staff Pick
2 total results
Through Jan. 13, 2019
Art Showing
Illustrator Norman Rockwell's Four Freedoms paintings are among the iconic illustrator's most well-known and impactful works, helping rally the nation during World War II (and getting endlessly parodied in the years since). And now, they're on view at the Henry Ford museum. $17.25+
The Henry Ford
(map)
20900 Oakwood Blvd.
Greater Dearborn Area

(313) 982-6001; (313) (FAX)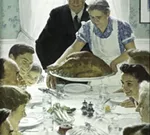 Through Jan. 11, 2019, 5-7 p.m.
Art Opening
Jane Waggoner Deschner grew up in Lawrence, Kansas, moving to Montana in 1977. She earned degrees in geography at the University of Kansas and, later, in art at Montana State University–Billings (BA) and Vermont College of Fine Arts (MFA). She was invited to create a portrait of a progressive female candidate for the exhibition "In Her Hands," at Robert Mann Gallery in Chelsea, NYC in the summer of 2018. She has been awarded residencies and fellowships across the US and in Canada. In conjunction with being an artist, she works as an exhibition installer, graphic designer, photographer, instructor, curator and picture framer. On view until Jan. 11.
Alfred Berkowitz Gallery
(map)
U of M-Dearborn
Greater Dearborn Area

(313) 593-5058
Showing 1-2 of 2 total results in this search.