Events Search – Members Pick
4 total results
Mondays-Sundays. Continues through Jan. 16, 2019
Exhibits
Charles H. Wright Museum of African American History
(map)
315 E. Warren Ave.
Midtown

313-494-5800
Fri., Aug. 24, 9 p.m.-1 a.m.

313-961-4668
suestatic@gmail.com
Live/Concert
StrummerJam Detroit -Joe Strummer Tribute Concert is a benefit for the Joe Strummer Music Foundation featuring Michigan bands Pancho Villa's Skull, Ricky Rat Pack, The Tosspints and Brian Raleigh. $6
https://www.facebook.com/events/1616759001787175/
PJ's Lager House
(map)
1254 Michigan Ave.
Corktown

(313) 961-4668
Sat., Aug. 25, 11 a.m.-4 p.m.

734-812-4932
Festival
@ CrossPointe Community Church, 36125 Glenwood Rd, Wayne, MI 48184
Car Show, family activities, food court- all free to our community. Free
Sun., Sept. 2, 9 p.m.-1:30 a.m.
DJ/Dance
A Night Of House Featuring DJ Cent wsg Norm Talley its a spiritual thing, a body thing, a soul thing, a house thing - Labor Day Weekend Party hard on Sun - No work on Mon sounds provided by Duncan Audio & Lighting Dance & celebrated the holiday, with a mature 21 + House-Head crowd Dancing Shoe's Required! Doors open at 9 PM - 1:30 AM Attire: Fun, Festive This Is A BYOB, Squeeze Bottles, Water Bottles or Plastic - ONLY - bring your favorite refreshment in 1 $15.00
International Institute
(map)
111 East Kirby
Greater Detroit Area

(313) 871-8600; (313) - (FAX)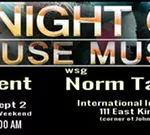 Showing 1-4 of 4 total results in this search.