Music Tomorrow – Staff Pick
1 total results
Sat., Sept. 22, 12 p.m. and Sun., Sept. 23, 12 p.m.
Live/Concert
He may be music journalists' most divisive subject and modern-day existentialism's poster boy, but one thing is true of God's Favorite Customer — Father John Misty, aka Josh Tillman is probably on LSD. But this rebellious spirit is just what Audiotree, the Chicago-based studio session company is all about, which is why the self-medicated prophet of self-awareness has been chosen to headline the 6th iteration of the Audiotree Music Festival in Kalamazoo. FJM will be joined by fellow headliners Local Natives for the two-day event, which will include performances by Diet Cig, Real Estate, Blitzen Trapper, Post Animal, Michigander, and more. $45-$135
Arcadia Creek Festival Place
(map)
145 E. Water St.
East Lansing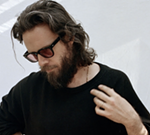 Showing 1-1 of 1 total results in this search.