Music This Weekend – Image
11 total results
Sat., Nov. 17, 9:30 p.m.
Live/Concert
While firmly rooted in jazz, the Chicago-based band's open-minded, inclusive nature also brings rock, pop, old-school funk, soul, Brazilian, and free improvisation to the surface while still keeping the aesthetic of an acoustic trio intact. $10
Cliff Bell's
(map)
2030 Park Ave.
Downtown Detroit

(313) 961-2543 (FAX); (313)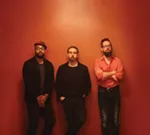 Fri., Nov. 16, 7:30 p.m.

248. 647. 7976
mariadelorenzo@gmail.com
Live/Concert
The Motor Lyric Opera Continues Detroit Song Collective Concert Series with "Bach to Bernstein" Bach duets and arias for soprano and baritone; as well as works of Bolcom, Barber, and Bernstein. Internationally renowned performers Caitlin Lynch and Dr. Jonathan Lasch will be joined by an instrumental ensemble led by violinist Sonia Lee and pianist Jean Schneider. All ticket proceeds support The Motor City Lyric Opera "Opera on Wheels" anti-bully outreach programs. $20 general admission, free for students
https://www.facebook.com/events/2195669930707640/

Schaver Music Recital Hall
(map)
480 W. Hancock St.
Midtown

(313) 577-1795 (FAX); (313)
Fri., Nov. 16, 9:30 p.m.
DJ/Dance
Magic Stick & Movement Present Walker & Royce with Henry Brooks and Adam Westing at the Magic Stick - Detroit, MI on the Alley Deck: Sonya Alvarez | Young & Heddy | Faren Strnad 18+ / Doors + Music: 9:30pm Tickets: goo.gl/vi2pb7 10+
https://www.facebook.com/events/316858455714937/

Magic Stick
(map)
4120 Woodward Ave.
Midtown

(313) 833-9700
Sat., Nov. 17, 10:30 a.m.-4 p.m.

248-344-0497
store@northvillearthouse.org
Art fair, Live/Concert
Over 30 young artists, ranging in grades 2 – 12, will be selling their original artwork during this one day indoor fair-$3 at the door. Also featuring music by the Northville Strings Students and Michigan's Troubadour Neil Woodward. Fun for the whole family! Schedule of Events: 10:30a-11:15a: Northville Strings Students; 11a-3p: Art Fair; and 3p-4p Musical Guest Neil Woodward-$7 in advance/door. $3-$7
https://www.facebook.com/events/246398779381971/?ti=ia

Northville Art House
(map)
215 W. Cady St.
Downtown Northville

(248) 344-0497 (FAX); (248)
arthouseinfo@northvillearts.org
Sat., Nov. 17, 7-10 p.m.
neighborhoodtheatregroup@gmail.com
Performance, Fundraiser, Live/Concert
@ Back Office Studio, 13 North Washington Ypsilanti, MI 48197
Join Neighborhood Theatre Group for a benefit performance to help us purchase our own lighting system! Featuring a silent auction, raffle, live music, and a cabaret show by your very own NTG Company! With performances by Kristin Anne Danko, Kylista Geiger, Daniel Ghastin, Eric Hohnke, Alice Kepchar, Maegan Murphy, Greg Pizzino, Angela VanKempen, Craig VanKempen, and Christopher Zavac with Charles Worth on piano. Live music by The NTG House Band and and Rudy Bernick on accordion. Open bar of beer and wine for those ages 21+ Ice cream provided by Go Go Ice Cream More info at www.ntgypsi.org $30-$35
http://www.ntgypsi.org

Sat., Nov. 17, 8 p.m.-1 a.m.

734-961-8610
info@unicornfeedsupply.com
DJ/Dance, LGBTQ, Party
Join us for an enchanting evening of dancing, drinking and underwater magic. The performances by the "Queen Mermaid," Maxi Chanel, and the tantalizing burlesque of legendary Luna Legare are sure to mesmerize. DJ Jamie Register will keep the oceanic dance floor vibing with deep cut soul and funk tunes throughout the night. Cash bar with themed cocktails and lights foods will be served. First, second and third places costume prizes will be awarded to the most miraculous mermaids (or mermen)! So spruce up your scales and polish those pearls and join us for an underwater adventure you'll never forget. $30
http://UnicornFeedSupply.com
Bona Sera Cafe
(map)
200 W. Michigan Ave.
Greater Ann Arbor Area

734-340-6335
Sat., Nov. 17, 8-10 p.m.

519-973-1238 ex. 2
boxoffice@windsorsymphony.com
Live/Concert
The Windsor Symphony Orchestra Masterworks Series: Windsor pianists Dr. Gregory Butler and Dr. Christine Vanderkooy join forces to perform the Canadian Premiere of the orchestral version of Mozart's engaging Concerto No. 10 for Two Pianos. Two more works round out the program: Lunar Reflections by Canadian composer Heather Schmidt and Beethoven's energetic Symphony No. 2. - Series Sponsor: Bill & Rochelle Tepperman Pre-Concert Talk at 7:00PM $35-65
http://www.windsorsymphony.com/event/a70806ef4a474cfb3b444ca83e797ad5
The Capitol Theatre
(map)
140 E 2nd St, Flint, MI 48502
Flint

810-237-7333
Sun., Nov. 18, 7-9 p.m.

248-661-1900
theberman@jccdet.org
Live/Concert
SOUL TO SOUL is an electrifying concert that explores the intersections between African-American and Yiddish folk music traditions. Conceived and directed by Zalmen Mlotek, featuring Lisa Fishman, Elmore James and Tony Perry. In English and Yiddish with English and Russian supertitles. The exciting celebration of a common journey of two cultures is the essence of Soul to Soul which brings together the African American and the Yiddish American experience in a deeply stirring musical presentation. $38-$50

The Berman Center for the Performing Arts
(map)
6600 W. Maple Rd.
Greater Birmingham Area

(248) 661-1900; (248) (FAX)
Third Friday of every month, 8-10:30 p.m.

11-866-834-8706
imanigroove@gmail.com
Karaoke/Open Mic, Live/Concert, Religious event
Join us as Anointed Faces Gospel Coffee House OPEN MIC night for a wonderful evening in a family atmosphere for gospel and inspirational songs, poetry, gospel-jazz; actors and actresses are also invited to do monologues etc. $10 Donation (includes food)
https://www.facebook.com/anointedfacesgospelcoffeehouse/
Anointed Faces Gospel Coffeehouse
(map)
18630 W. McNichols
Greater Detroit Area

(313) 308-5935
Acclaim48215@yahoo.com
Mondays-Sundays, 8-10 p.m. Continues through Dec. 23

248-377-3300
Musical, Performance, Dance performance
Everyone's favorite holiday classic captivates audiences for the 37th year with the tale of a mean-spirited miser and the ghosts that haunt him. Celebrating 37 years of holiday magic! Matinee and Evening Performances Available. For a full list of performance dates and times, please take a look at our calendar. http://www.mbtheatre.com/season-calendar/?view=calendar&month=November-2018 $23-44
https://www.facebook.com/events/1520910331358814/

Meadow Brook Theatre
(map)
207 Wilson Hall
Greater Rochester Area

(248) 377-3300
Saturdays, 8 p.m.-12 a.m.

313-965-0840
Thomasdelroy10@gmail.com
Live/Concert
The Only Place in Detroit where you will find Live Motown Music performed EVERY SATURDAY The Funk Brothers Tribute Band performs with a variety of Detroit Vocalists, which have included Grammy considered jazz artist & Detroit Music award winner, Joan Belgrave, The Stubbs Girls and more No Cover
cobo joes
(map)
422 west congress
Greater Detroit Area

(313) 965-0840; (313) - (FAX)
Showing 1-11 of 11 total results in this search.