Film Tomorrow – Tickets Available
1 total results
Thu., Nov. 15, 7-9 p.m.

313-482-9028
info@cinemadetroit.com
Screening
First Among Women: Alice Guy-Blaché From 1896 to 1906, Blaché was the only woman film director in the world. She led a studio and owned her own production company. This screening features newly composed and recorded scores. ALGIE THE MINER (1912) - Early LGBTQ themed western THE LITTLE RANGERS (1912) - Proto-feminist adventure A FOOL AND HIS MONEY (1912) - A laborer gains and loses a fortune MIXED PETS (1911) - Comedy of errors FALLING LEAVES (1913) - Illness affects a family MATRIMONY'S SPEED LIMIT (1915) - A man has 12 minutes to marry or lose his inheritance. $12; students/seniors/veterans $11; Cinema Detroit members $10.50.
https://www.cinemadetroit.org/pioneers

Cinema Detroit
(map)
4126 Third Street
Greater Detroit Area

313-482-9028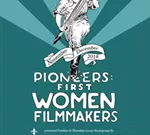 Showing 1-1 of 1 total results in this search.