Film Tomorrow – Staff Pick
1 total results
Sat., Feb. 16, 1 p.m.
Screening, Books
Leave your blindfolds at home, folks. The gloom and doom Netflix horror flick Bird Box is getting the big screen treatment at the Senate Theater with a special engagement and book signing with New York Times Bestselling author (and Michigan's own) Josh Malerman. Based on the 2014 novel, Bird Box reportedly had more than 45 million accounts stream the post-apocalyptic film during its first week, rejuvenating Sandra Bullock's career and putting Malerman's writing in the spotlight once again. A Q&A and book signing with Malerman will follow the screening. $10-$25
Senate Theater
(map)
6424 Michigan Ave.
Greater Detroit Area

(313) 894-4100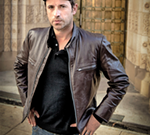 Showing 1-1 of 1 total results in this search.