Neighborhood social Search
1 total results
Wednesdays, 8 p.m.
info@planetant.com
Improv, Neighborhood social, Drink Up!
Wednesdays | Ghost Light | FREE* Planet Ant Presents: BARPROV — An Improv Open Mic! Looking for stage time? Wanna meet some new improv pals? Improvisors of all experience levels are welcome to take the Ghost Light stage and get their Yes, And on the last Wednesday of each month. Bring a troupe, or come alone and build one with new friends. FOR PUBLIC CONSUMPTION — supportive onlookers ready to laugh and have some fun will find a home in our audience, always! bar opens 7p | sign-up starts 8p | games begin 9p FREE
https://www.facebook.com/events/692681337766841/
Ghost Light
(map)
2314 Caniff St.
Hamtramck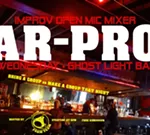 Showing 1-1 of 1 total results in this search.