Association/Club Event Search
2 total results
Sun., Oct. 14, 10 a.m.-5 p.m.

586-944-3212
jrpbell@aol.com
Association/Club Event
@ Jan Peck Chairman -Bead Bonanza Oct 14th 2018, Civic Center Pavilion, 29000 Evergreen Road, Southfield, MI 48076
The Great Lakes Beadworkers Guild, a non-profit, 501c-4 educational and charitable organization, invites you to attend the semi-annual Bead Bonanza, Sunday, October 14, 2018 at the Southfield Civic Center Pavilion, 29000 Evergreen Road in Southfield from 10 am until 5 pm. Bead Bonanza, in its 23rd edition, is the event which allows the Great Lakes Beadworkers Guild to sponsor national teachers for local classes, open to both guild members and the public. This event brings bead retailers from around our state as well as surrounding states and is the largest bead show in the Michigan. $6 $1 off coupon available
http://greatlakesbeadworkersguild.org/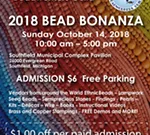 Showing 1-2 of 2 total results in this search.