Association/Club Event Search
3 total results
Thu., Feb. 22, 9 a.m.-8 p.m.

313-881-7511
lparrott@warmemorial.org
Association/Club Event
Blood Drive at The War Memorial Thursday, February 22, 2018 9am-8pm American Red Cross. Give Blood. Help Save Lives. Make appointments at redcrossblood.org sponsor code gpbloodcouncil or call 1-800-RED-Cross (1-800-733-2767). Streamline your donation experience and save up to 15 minutes by visiting RedCrossBlood.org/RapidPass to complete your pre-donation reading and health history questions on the day of your appointment. Free
https://www.redcrossblood.org/give/drive/driveSearchList.jsp?zipSponsor=gpbloodcouncil
Grosse Pointe War Memorial
(map)
32 Lake Shore Dr.
Greater Detroit Area

(313) 881-7511
Sat., March 3, 10 a.m.-7 p.m.

248-599-2461
EXPOMichigan@gmail.com
Performance, Association/Club Event
EXPO Michigan Exhibit, Promote, Sell your brands, products, services at Laurel Park Place, Livonia www.EXPOMichhigan.com $99 table set up, 3 tables $199
http://http:www.EXPOMichigan.com
Laurel Park Place
(map)
37700 W. 6 Mile Rd.
Greater Detroit Area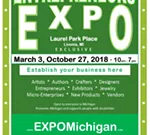 Sun., March 4

248.445.1277
Association/Club Event
For all the Greatness offered in one life, there is the best right here at home. Sunday , March 4, 2018 at The Tangent Gallery E. Milwaukee Detroit , MI . Tickets $20. Doors open at 6p-11p . $20

Tangent Gallery
(map)
715 E. Milwaukee
Greater Detroit Area

(313) 873-2955
Showing 1-3 of 3 total results in this search.