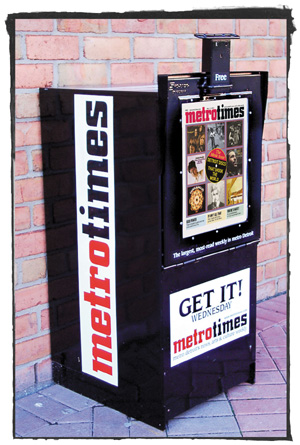 Our paper and our website are well established as indispensable marketing vehicles. Although Detroit is a healthy media market with an abundance of media options, no one offers the connection to the Generation X, Generation Y and Boomer crowds like Metro Times does. Our readers are difficult to reach through traditional media, yet represent the most desirable market for advertisers. As a must-read for these elusive audiences, Metro Times provides advertisers with direct access to the most active consumers in metro Detroit.
Metro Times is published every Wednesday. Space reservation and copy deadline for display advertising is 5 pm Wednesday, one week prior to publication.
Click here to download our 2017 Media Kit
Readership and Demographics
Metro Times dominates Detroit's young adult market. Our readers are active, well educated and have high disposable income.
Metro Times is at record readership levels:
Metro Times reaches more adults than the daily newspaper movie/entertainment sections.
No radio station reaches more adults in the market than Metro Times.
Metro Times' reach is more than double that of the nearest weekly or monthly print competitor.
Market Research
Metro Times account executives can provide you with detailed research for specific media plans including audience profiles, media profiles, purchasing patterns and unduplicated reach information via International Demographics' Media Audit.
Testimonials
Metrotimes showed an unmatched commitment to the Detroit Restaurant Week promotion. Their partnership helped to make our first year event an overwhelming success for both the participating restaurants and the city of Detroit. We really enjoyed working with their executives and talented team of journalists. We look forward to partnering with them in the future on other Paxahau produced projects. —Jason Huvaere, Director of Detroit Restaurant Week
Metrotimes out-of-the-box thinking has assisted the Boydell team with creating several cutting-edge marketing campaigns. As a result, the Metrotimes is one of our top lead generators, providing both quality & quantity. Most importantly, we get our properties rented! —Clayton Wenrick, Marketing Director, Boydell Management
I've advertised in many papers. Seldom am I surprised with the response I get; the Metro Times surprised me, and it just keeps improving. I have found the circulation and quality of readers to exceed the other local newspapers, including the dailies. But the quality of the response was equal to the quality of the service. I will stay with Metro Times because it works and I get top notch service. Dick Sevy, Big D Auto
TCF Bank wants to be known for doing more, like being open 7 Days. Advertising in the Metro Times has been successful for us since we want to reach the very discerning demographic that expects more and won't settle for less. —Marketing Department of TCF Detroit
The Metro Times is our #1 print lead generator. The Metro Times Real Estate Account Executive's hands-on approach has enabled our company to create a successful marketing plan and I look forward to continue working with her and the rest of the Metro Times' team through 2009. —Carrie Cohen, Garden Court Condominiums
We've had nothing but success by advertising in the Metro Times health section. It is one of our most effective sources of recruitment. —Wayne State University
At Cliff Bell's we believe in providing a high quality product at a reasonable price. It's only natural that we choose to advertise in the Metro Times. We love the paper and we appreciate their professional staff and attention to detail. —Paul Howard, Owner of Cliff Bells
Metro Times hits my target customer & brings in the results I need for my business. —Mikel Smith, Owner, Detroit Threads
The Metro Times has given Apple Charlie's our best advertising result ever! Now that's 55 years of business, which is a lot of advertising. If you want great results Metro Times is the place. —William Groeer, Owner, Apple Charlie's Orchards
Metro Times partnership with Hamtramck bars has been a smashing success not only for local businesses, but also for the city of Hamtramck. The Blowout has provided a unique opportunity to rediscover Hamtramck. Thanks Metro Times! —Scott Klein, Mayor Pro Tem, City of Hamtramck
Retail Advertising
Each week, Metro Times offers cost-effective advertising solutions for businesses large and small. Our award-winning editorial product delivers readers that can't be reached through traditional media and who are the most active consumers around. Advertising in Metro Times is incredibly effective because our ads are as well read as the edit. Our professional advertising account executives can consult with you to provide customized advertising and promotional solutions for your business.
For more information or to advertise: call 313-961-4060.
Classified Advertising
Each week,Metro Times publishes metro Detroit's most amazing classifieds. Metro Times advertising is as well read as the edit and provides an ideal environment for classified advertisers in a wide variety of categories including real estate, rentals, employment, health studies, automotive, mind body & spirit, personal services and more.
For more information or to advertise: call 313.961.4060.
Online Advertising
Metrotimes.com is not your typical "hot-link" website. Our website is a vibrant and dynamic destination site for people looking for where to go and what to do in metro Detroit along with access to the award-winning editorial content Metro Times.
Metrotimes.com not only provides content from the paper, it also includes The Interactive Guide to Detroit featuring our award-winning database of restaurants, events, nightspots, and musicians including literally thousands of online listings.
Each month, Metrotimes.com receives upwards of 3.5 million page views. Our website allows advertisers the opportunity to add greater depth to their retail or classified advertising campaigns in Metro Times.
For more information or to advertise:
Call 313-961-4060 or email jcohen@metrotimes.com.