Tuesday, Jan. 7. Ultra Bidé. First of all, we'd like to get an ultra bidé of our own — one would assume it reaches the spots that other bidés just don't reach. Musically, there's nothing particularly new going on here, but it's all played with such fury, such unrestrained pissed-off-ness, that it's impossible not to leap on board their crazy bus of annoyance. The band is signed to Jello Biafra's Alternative Tentacles label, which makes sense because there's a definite Dead Kennedys quality to the music. A live show from this Japanese band will be a real treat. PJ's Lager House, 1254 Michigan Ave., Detroit, 313-961-4668; pjslagerhouse.com. Doors at 9 p.m.; $7.
Thursday, Jan. 2: Matt Floyd. YouTube sensation, hip-hop kid Matt Floyd, is an 18-year-old from Clarkston, but his debut mixtape is called California Dreamin'. Weird, because apparently there's a hip-hop kid in Sacramento with a mixtape called Clarkston Dreamin' (jk). On his Facebook page, Floyd says, "Inspiring one person at a time to not be afraid to take the road less traveled … Small-town kid, big-time dreams." We're sure the show will be fun but here's a tip, kid. Quit bigging up Cali, Matt — you're a metro Detroit rapper, so you're exactly where you need to be. Fuck Hollywood. Mike Shades and Rico DaVinci also play. The Pike Room, 1 S. Saginaw St., Pontiac, 248-858-9333; thecrofoot.com. Doors at 7 p.m.; $10.
Thursday, Jan. 2. The 10th. Locally produced and filmed, The 10th is a coming-of-age story portraying four African-American families who leave their working-class roots back in Detroit to pursue the American dream in the city's posh northern suburb of Birmingham. Based on W.E.B. Dubois' "The Talented 10th," the film follows Dre, Ronald, Marcus and David into their world of sex, lies and scandals. Find out what lies behind suburbia's white picket fences. Main Art Theatre, 118 N. Main St., Royal Oak, 248-686-2759; eventbright.com. Curtain at 9:30 p.m.; $10.
Sunday, Jan. 5 Avant-Garde Animation. Since the earliest days of animation, experimentation with the abstract as a channel for expression has appealed to such artists as Fernand Léger and Lotte Reiniger — not to mention all those LSD-eating children of the Aquarian age. Often dispensing with traditional storylines, these works stimulate the viewer with the power of suggestion and the pure joy of motion. Program curated by Steve Stanchfield, professor of Animation, Entertainment Arts, College for Creative Studies. Detroit Film Theatre at the DIA, 5200 Woodward Ave., Detroit, 313-833-7900; dia.org. Curtain at 2 p.m.; $5.
Saturday, Jan 4. Come Out Fighting. A punk and hardcore mega-bill at Small's sees the likes of Come Out Fighting and Way Past Saturday tussling with Port Huron's Manifest the Machine and the thumb area's Adjudicator. That's a lot of angry Michiganders in one place. Are we sure that's a good idea, Small's? Expect the pit to get rowdy and the music to be fast. Expect the hooks to be as big as the chunky riffs. Expect a few people to show up with Mohawks and then watch their smug faces as they feel more punk than you. Expect shit to go down. Small's Bar, 10339 Conant St., Hamtramck. 313-873-1117; smallsbardetroit.com. Doors at 6 p.m.; $7-$10.
Saturday, Jan. 4. Eric Roberson. New Jersey singer Eric Roberson is sometimes referred to simply as Erro, but we're not going to do that because it sounds stupid. He brought it on himself though — his label is called Blue Erro Soul. Roberson has worked with Jazzy Jeff in the past, but this year's United Tenors album (with Fred Hammond, Dave Hollister and Brian Courtney Wilson) is arguably the best piece of work that he's put his name on, to date. Roberson is an honest, hardworking singer-songwriter, and this early-in-the-year performance at St. Andrew's should be interesting. St. Andrew's Hall, 431 E. Congress St., Detroit, 313-961-8961; ericrobersonmusic.com. Doors at 7 p.m.; $25.
Friday, Jan. 3. D.F.I. The first Saturday of 2014 at the Magic Stick will feature some wonderful electronic music, courtesy of Trapt in the Bass Mix — featuring D.F.I. That should suit anybody who had a quiet New Year's Eve. Maybe you were the designated driver out of necessity rather than choice, and you feel like you still have a lot of dancing left in you. Either that, or you want to get a start on the new-start cardio. Either way, this will give techno heads an excuse to kick off the New Year with a bang. Magic Stick, 4120 Woodward Ave., Detroit, 313-833-9700; majesticdetroit.com. Doors at 8 p.m.; $15.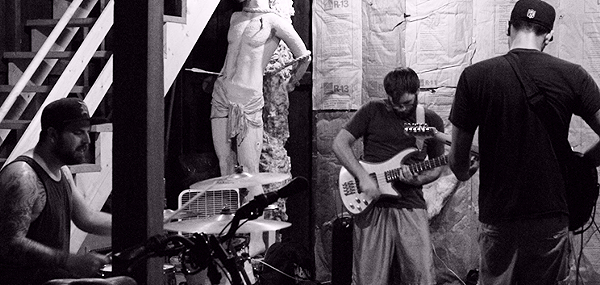 Friday, Jan. 3. Truman.This is a great four-band bill at the New Dodge that features headliners Truman, the Ypsilanti-based band Lawless Carver, Touch the Clouds, and Matt Jones & the Reconstruction. Jones is a mainstay on the Ypsilanti indie-rock scene, working with singer-songwriters like Misty Lyn. The guy heads a songwriting collective in Ypsi and has been responsible for championing a lot of big talent. It shouldn't be forgotten that he's one of the biggest. Meanwhile, Touch the Clouds is an indie rock band out of Detroit with bags of 'tude. Shake off the hangovers and get out to this one. New Dodge Lounge, 8850 Joseph Campau Ave., Hamtramck, 313-874-5963; ?facebook.com/newdodgelounge. Doors at 8 p.m.; $5-$10.