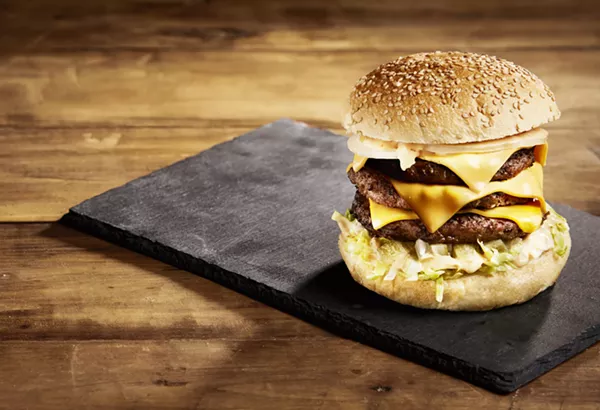 A new six-restaurant food hall and a ramen noodle bar will open in the Greektown Casino-Hotel on May 1.
The 11,000-square-foot food hall, called the Monroe Market, is comprised of a diverse line up of six fast casual eateries. It also includes a "contemporary dining area complete with eclectic décor, communal seating, custom vinyl murals, and a 280-square-foot living wall," according to a release.
A seventh restaurant called Noodle Art that serves traditional Japanese ramen "with a Detroit twist" in a space holding a pop culture decor. Aside from ramen, Noodle Art will offer Japanese fried chicken, hand-made pork dumplings, tuna sashimi, and other rice and noodle bowls.
The restaurants are located on the main casino floor and part of a $15 million renovation. A release sent by a casino spokesperson described each new concept in the Monroe Market:
American Burger Bar

American Burger Bar will grill up juicy burgers, Detroit-style coney dogs, and vegan-friendly Impossible burgers. This burger joint will also offer all-day breakfast sandwiches made with all-natural eggs and served on a glazed donut or warm brioche bun. American Burger Bar is also located at JACK Thistledown Racino.

Basil Leaf

Basil Leaf is a rustic Italian eatery focused on made-to-order Neapolitan pizzas that combine international flavors with local ingredients. Each hand-tossed, thin-crust pizza will be baked and ready in under three minutes using a 7,000-pound, 900-degree stone oven. Additional menu items will include a variety of salads and hot sandwiches. Basil Leaf is also located at JACK Cincinnati Casino.

Josephine Bakery

Josephine Bakery is a charming bake shop named after a team member who has worked at the casino for 17 years and embodies the progressive spirit of Detroit. This artisanal bakery will feature an assortment of tasty treats including croissants, macaroons, and pies in addition to freshly-churned Italian gelato, specialty coffee beverages made from Great Lakes Coffee Roasting Company beans, and grab-and-go sandwiches and salads.

Pit Boss

Housed in a sleek Airstream-style trailer, Pit Boss will offer classic barbecue favorites including pulled pork, chicken, brisket, ribs, and polish sausage, which will all be served with a pickle and slice of white bread. The uniquely-designed barbecue joint will also dish up flavorful sides including creamy coleslaw, potato salad, sweet cornbread muffins, and burnt end pit beans.

Southern Fry

Southern Fry is where Detroit meets the South. This comfort food spot will specialize in mouth-watering, crispy fried chicken and serve up soul food favorites such as collard greens, baked mac and cheese, biscuits with honey, and delicious sweet potato pie for desert.

Tia Loca

Tia Loca, which translates to crazy aunt, will offer authentic Mexican street fare. Guests will be able to customize tacos, burritos, salads, and bowls or choose from one of the signature dishes, including carnitas tacos, fajita chicken salad and a spicy hellfire burrito. Tia Loca will also have plenty of sides such as house-fried chips, five fresh varieties of salsa that range from mild to spicy, cilantro lime white rice, brown rice, black beans and pinto beans.
So many restaurants, so little time. Find out the latest Detroit dining news with our weekly food newsletter delivered every Friday morning.