August 08, 2013 Slideshows
10 Best Sellers This Week at Noir Leather
NOIR LEATHER'S TOP 10 THINGS SOLD ITEMS OF THE WEEK .......... Castratta, Lady of Pain, mistress of the counter at Noir Leather in Royal Oak, gave us this week's 10 best-selling items. Some of them we thought were great, others we had trouble believing somebody would purchase. Enjoy …
GOLD BOLT HEELS .......... Lightening bolt shaped heel in gold glitter. Shiny black upper with gold spikes along outer side and across the front toe. 5 1/2 inch heel and 1 1/2 inch platform. You wanna inflict some pain? Step on his back with these puppies!
VIBRATING MAGIC WAND BY HITACHI .......... Hitachi, yes the same one that makes your TV, has something for your secret love drawer next to the bed, too. No assembly required. Instructions are Rated-XXX.
ELECTRO PLAY WAND BY KINKLAB .......... A state-of-the art electro-stimulation device perfect for seasoned pros as well as new users. Get one for Grandma this Christmas.
ASS SERVANT PLUG BY TITAN MEN .......... Can you take it? These are some of the largest anal toys every produced. Two sizes available for intense, advanced anal play: SERVANT — for the capable pig. MASTER — for the experienced ass-master.
LEATHER RESTRAINTS BY RAPTURE .......... Tie 'em up and keep 'em in place with these bad boys. This isn't your Holy See's Rapture!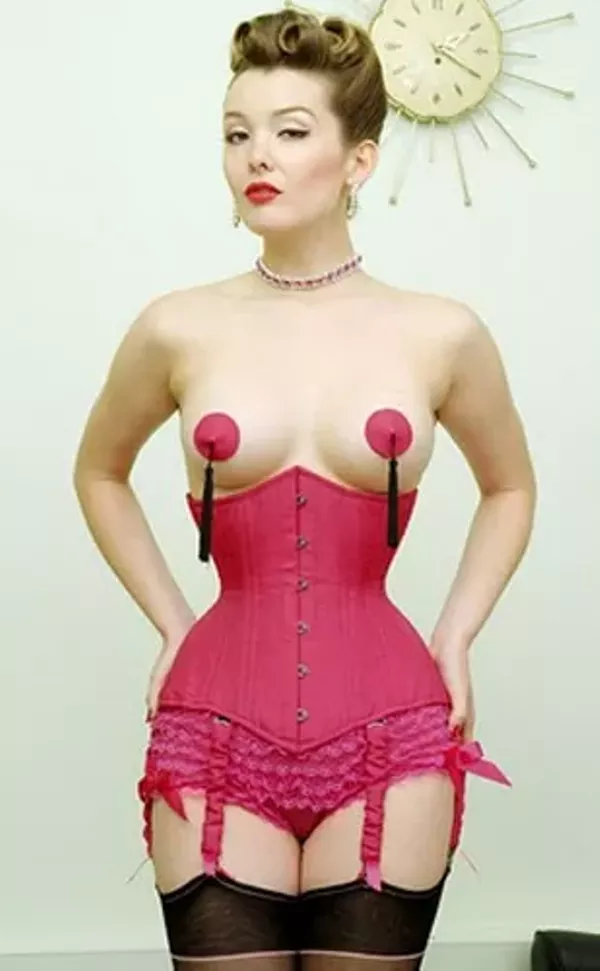 PIN-UP WEAR BY WHAT DID KATIE .......... Before Mad Men became all the rage, women who knew, knew what to wear to drive their partner crazy: Pin-Up wear!
CORSETRY BY TIMELESS TRENDS Corsets pull in the waist and push the breasts up and out. Remember: It's always better to look good than feel good!
G-SPOT STIMULATOR BY INTIMATE ORGASMS .......... This little doohickey is designed to make sex more pleasurable for her. (Feeling bad yet, guy?) Includes orgasm gel and g-spot finger vibrator to keep her tickled every night!
URETHRAL DILATOR KIT .......... Have you ever heard of Sounding? If not, don't feel bad because neither had we. Frankly, it seems a bit fucked up, but hey — you wanna shove something up your shaft, have at it, man!