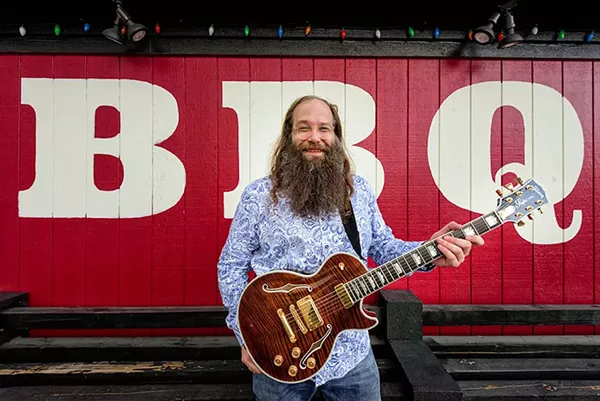 It's that time of year again: the time to walk around Ferndale in the heat, gnawing on pork and drinking brown liquor at the Pig & Whiskey festival. Arguably even more exciting is the heavily curated musical lineup, including the best of Detroit's rock and Americana bands, along with some out-of-towners. We included the lineup below, with a little taste of what each band is about so you know what you're getting into before you take a bite. (Set times subject to change — see pigandwhiskeyferndale.com for the latest.)
Friday
Pokey LaFarge
Pokey LaFarge looks like he was plucked straight out of a Peaky Blinders episode and plopped into the 21st century. The St. Louis-based crooner and Third Man Records artist plays up his nostalgic look with a sound to match, writing songs with a strong blues and rockabilly influence. (9:30 p.m.)
Bear vs. Shark
This post-hardcore rock group from Highland Township was born again after a 10-year hiatus that ended in 2016. With a few more years and a slight change in its lineup, the band came back stronger than ever and has been spreading its testosterone-laden emocore across the nation. Bear vs. Shark is proof that the angst of the early 2000s is still alive and well. (8:30 p.m.)
Ohio Wild
Detroit's Allison Laakko and Jim Byrne come together to make the graceful cascading duo Ohio Wild. The band's beautiful harmonies and carefully picked acoustic melodies make for simple and haunting modern folk music that recalls similar iconic duos like the Civil Wars and Simon & Garfunkel — perfect for sitting back and observing from the shade of a willow while sipping on some of the festival's famous whiskey. (7:30 p.m.)
The Messenger Birds
Parker Bengry and Chris Williams combine forces as the Messenger Birds, a Detroit-based hard rock band. The group's bio says, "they're not a band, they're just two guys," but their intricate playing styles and looping techniques create the sonic illusion of a five-piece troupe. The Messenger Birds are a sacred remnant of the crowd-surfing mosh pit days, and the band creates an environment where anyone could feel accepted doing both. (6:30 p.m.)
Saturday
Laith Al-Saadi
Beloved The Voice finalist Laith Al-Saadi is bringing his booming voice and bluesy guitar-playing after a run-in with Michigan State Police earlier this year. Now that's rock 'n' roll. (OK, Al-Saadi's lawyer says the drugs were for chronic pain.) (9:30 p.m.)
Stone Clover
Self described as "Detroit Paddy Slag," Stone Clover is an Irish drinking band that wears kilts. If you're drunk enough, watching them could feel like a fun adventure across the Atlantic. If not, it could feel like St. Patty's day came too early. (7:45 p.m.)
Robert Bradley
Originally from Alabama, Robert Bradley became a Detroit staple in the '90s with his band, Robert Bradley's Blackwater Surprise. After moving back to the Yellowhammer State, the 67-year-old returned to Detroit in 2017 to record his latest, Down in the Bend. His soulful voice was honed starting from his years as a blind street singer to fronting up his own blues rock band, and now as a solo artist in his mature years. This artist is a must-see. (6:15 p.m.)
Holly Bernt Band
Holly Bernt's sultry vocals and nostalgic songwriting are reminiscent of the smoky Badlands she once called home. Joined by Jimmy Dixon and Max Bauhof, the band will be performing songs off its debut record, Lightning on the Vine. With Bernt and Dixon's blues guitars and Bauhof's rhythmic mastery, the set is sure to be an Americana-lover's dream come true. (4:45 p.m.)
Ben Keeler Band
Keeler, who released his debut album Movo Daring in April, writes unpretentious, fun pop tunes — not "pop" in the sense that it's unsubstantial, easy writing, but the kind of pop that hits home and has you smiling without noticing. (3:30 p.m.)
Kevin Thibodeau & Cast Iron Horns
Thibodeau's sexy tenor voice performs a range of soul and R&B tunes, accompanied by an impressive chorus of horns, guitar, and bass. The Detroit native's funk is sure to get hips swaying. (2:15 p.m.)
The Doozers
A couple of young spring chickens, the Doozers pull from pop rock bands like Cage the Elephant and the 1975 to craft their own sound. They're a fun and talented bunch with a bright future on the horizon — you can say you saw them at Pig & Whiskey first. (1:15 p.m.)
Billy Brandt & the Sugarees
Brandt's feel-good, psychedelic alt-country is the type of music you would want to listen to while smoking a joint with your dad in the middle of a lake somewhere. His words of wisdom are those that could only come from a '60s protest baby, and his influences — the Beach Boys, the Byrds, the Hollies — speak to it. (12 p.m.)
Sunday
Electric Six
Electric Six has been around since Detroit's legendary Gold Dollar days, playing alongside the White Stripes and achieving nearly as great success. This band still seriously rocks and are legends in their own right. (7:30 p.m.)
Ancient Language
Ancient Language is a lush orchestral, electronic band from Detroit. Started by brothers Christopher and Zach Jarvis, the group has grown to a full band (including a violinist) and evolved its sound along the way. (6:15 p.m.)
The Beggars
Harking back to the days of Van Halen and Led Zeppelin, the Beggars deliver good old fashioned rock 'n' roll to their audiences. Get in on some of their headbanging mayhem and glam-rock theatrics at the festival. (4:45 p.m.)
Duende
Duende's hard-rock surf-psychedelia is a brand of cool not normally found in today's hard rock bands. They have an edge that screams originality, and a penchant to touch the sweet spot of multiple genres. (3:30 p.m.)
Mark Mallman
Visiting Ferndale all the way from Minnesota, Mallman is blessing the crowd with his acutely orchestrated music and performance art. He's a Renaissance man and a one-man show endlessly chasing the dream — and doing a fine job at it. (2:30 p.m.)
Strange Heart
Strange Heart slays with its three-part harmonies and emotional lyrics. Best described as a country rock band, these steel cowboys bring a little taste of Nashville to the D. (1:30 p.m.)
Kimball
These young bucks — the drummer is still in high school — are taking the indie rock world by storm. With lead singers Austin McCauley and Emily Barr's gorgeous vocals, the band's songs unwind like haunting bedtime stories or inspiring soundtracks to a long drive. (12:30 p.m.)
After-parties at the Loving Touch
Friday
Rock goddess Zee Bricker heads up high-energy local act, Tart. You can expect a top notch performance as strong as a tequila shot. With the High Strung and Kommander.
Saturday
Fresh off tour, Summer Like the Season's mathematical rhythms and piercing voice should not be missed. With Bent Knee and Saajak.
Sunday
Fun EDM-saxaphone mix from Andrew Ficker, aka the Dropout, everyone's favorite local exhibitionist. With Scarlet Lies and Vazum.
Pig & Whiskey runs from 6 p.m.-midnight on Friday, July 13; 11 a.m.-midnight on Saturday, July 14; and 11 a.m.- 11 p.m. on Sunday, July 15; Downtown Ferndale on Nine Mile Rd. and E. Troy St.; pigandwhiskeyferndale.com; Event is free and open to the public.
Get our top picks for the best events in Detroit every Thursday morning. Sign up for our events newsletter.